When I was just out of college and had my first apartment with a place for a tree, I remember admiring department store trees while Christmas shopping.  They were always so decked out and filled with gorgeous ornaments. Dream Christmas trees for sure!
For me, "dream tree" means a full, tall, and beautifully decorated tree. It should have a thoughtful design and a color scheme that coordinates with its space. Most importantly, it should be visually stimulating.
Creating a beautiful Christmas tree is always my goal. Based on the messages I receive, it seems many of you share this goal. Each Christmas, I also receive numerous requests for tree sources. For your convenience, I've gathered sources and shared quantities to help you recreate some of my most popular trees.
*This post contains affiliate links. Disclosure here.
Tree 1 – White, Champagne, Blue
This was my first tree that I felt lived up to the "dream tree" description.
It is a full profile tree. At almost 60″ wide, it makes a grand statement. It is also tall, 9′ to be exact.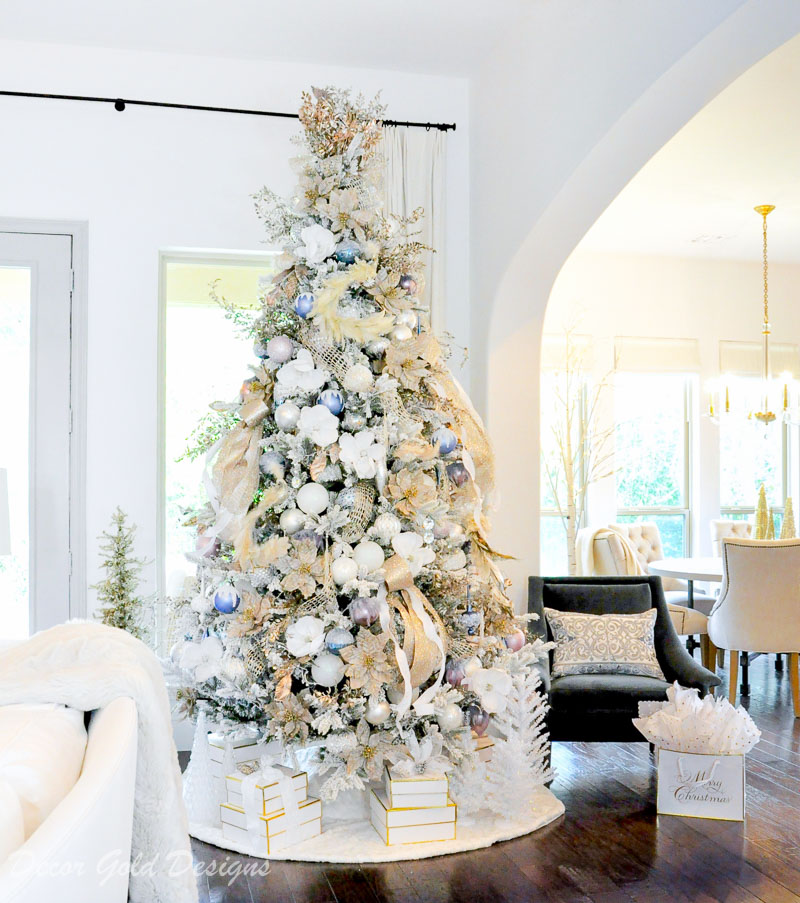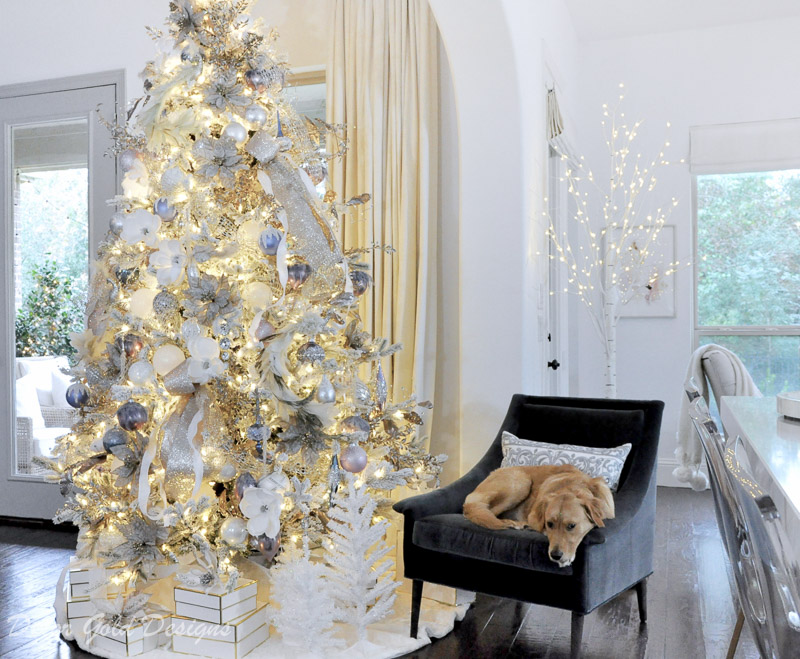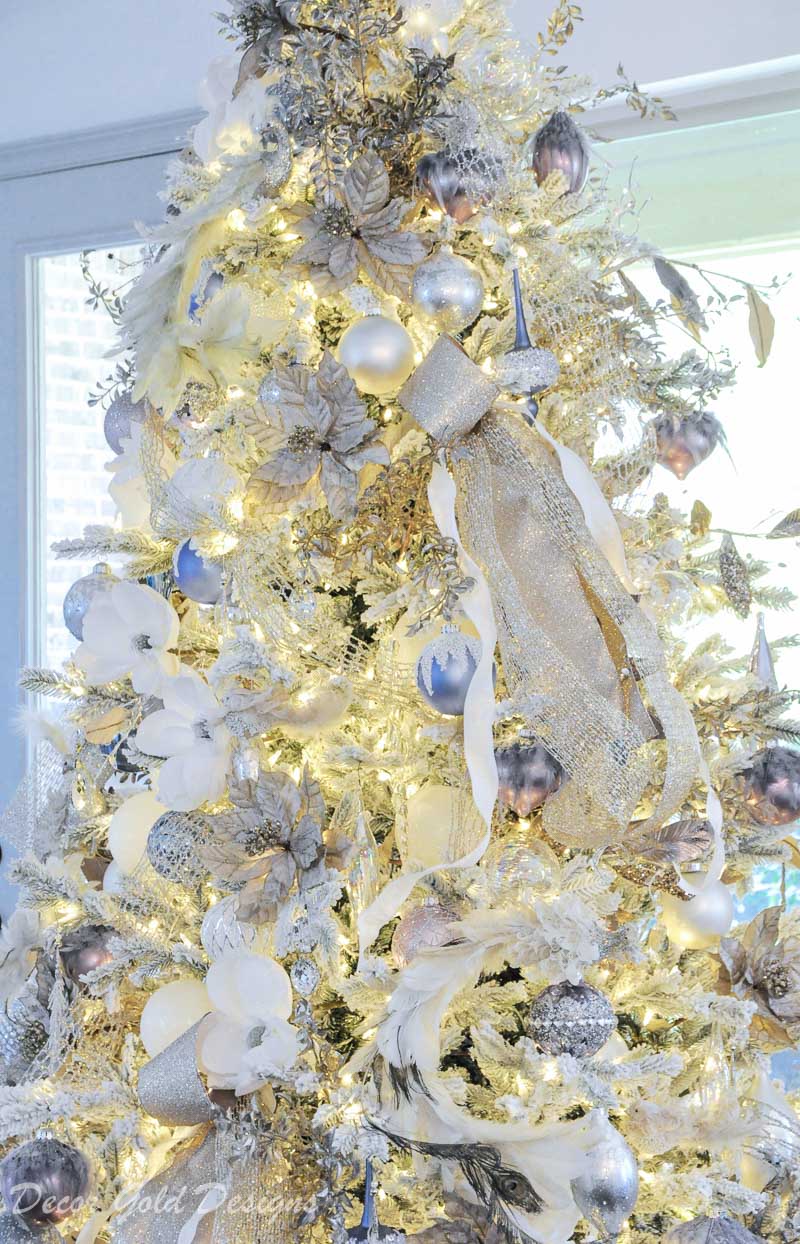 To get the look, I started by adding the picks, then the poinsettias and magnolias. Poinsettias or magnolias or both make an appearance on all of my trees. I love both!
Next, I add ornaments, large to small.
Lastly, I add ribbon. For a more detailed description of how I decorate my trees, read Tree Decorating – Step by Step.
16 Small Leaf Picks

Gold Magnolia Leaf Picks or Garland

12-15 Taupe Poinsettias

6 White Magnolias

8 Silver Ornaments

6 White/Pearl/Ivory/Dove Gray Ball Ornaments

6 White Snowball Ornaments

6 Glitter Pinecone Ornaments

12-15 Blue Ornaments

10-12 Lavender Ornaments

3 White Peacock Ornaments & 3 Feather Birds

Glitter Gold Ribbon, Solid Gold Ribbon & White Ribbon

Tree Skirt & Gift Boxes

Small Tinsel Trees

Tree 2 – White, Ivory, Champagne
This is the same tree as Tree 1 above with a new look! Follow the same steps to get the look!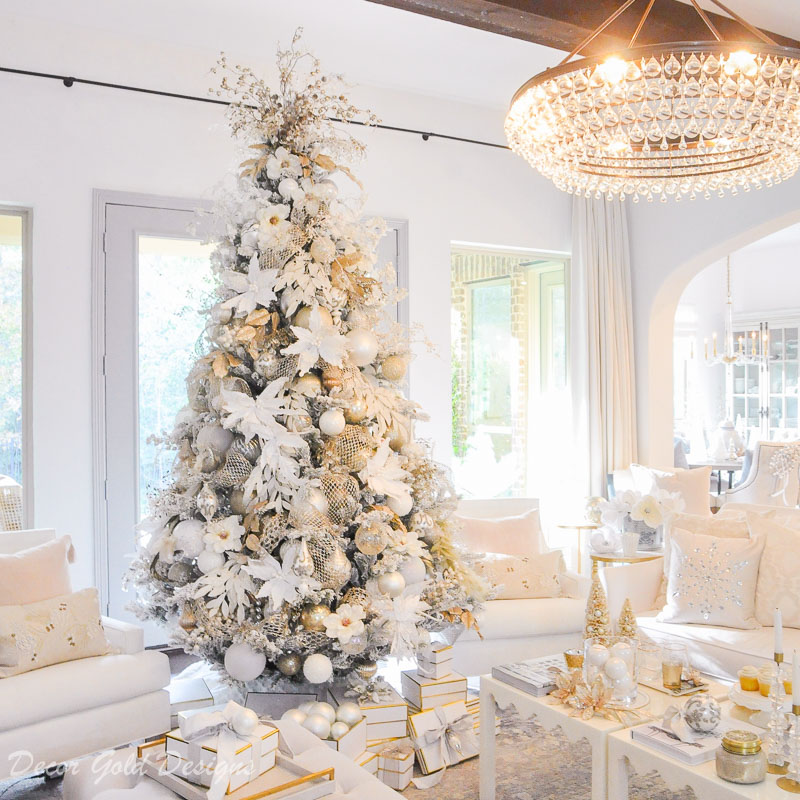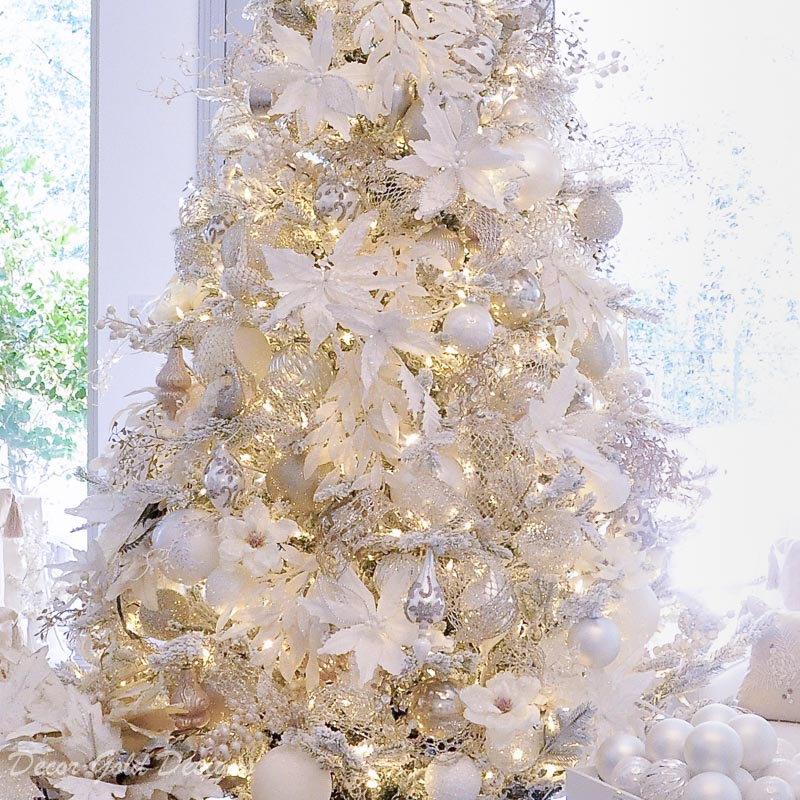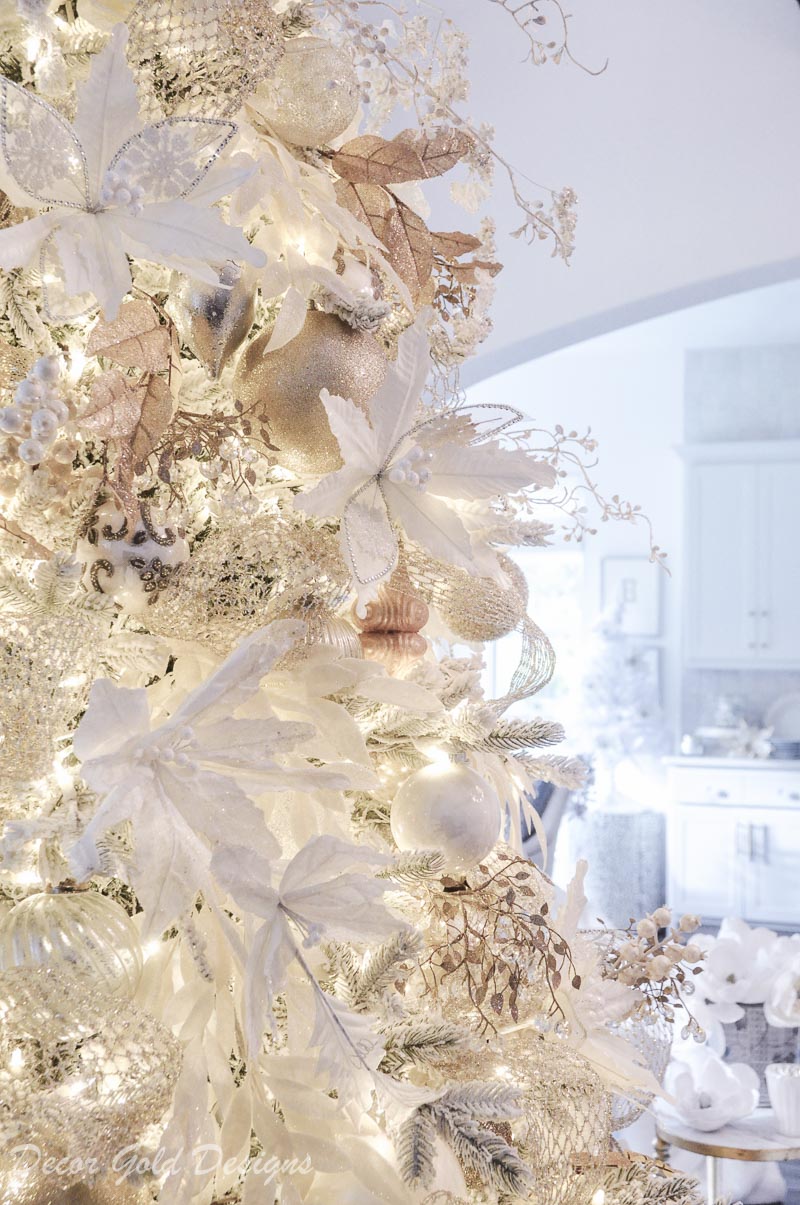 10 White Berry Picks

6 White Leaf Picks

16 Small Leaf Picks & Glitter Leaf Picks

12 Double and Single Poinsettias

12 Magnolias

12 Large White Ornaments

18 Medium White Ornaments

24 Assorted Medium Ornaments

12 Finial Ornaments

3 White Peacock Ornaments

Glitter Gold Ribbon

Tree 3 – Silver, White
This heavily flocked tree is tall and slender, fitting perfectly in this space.
A few less ornaments are required to get a great look.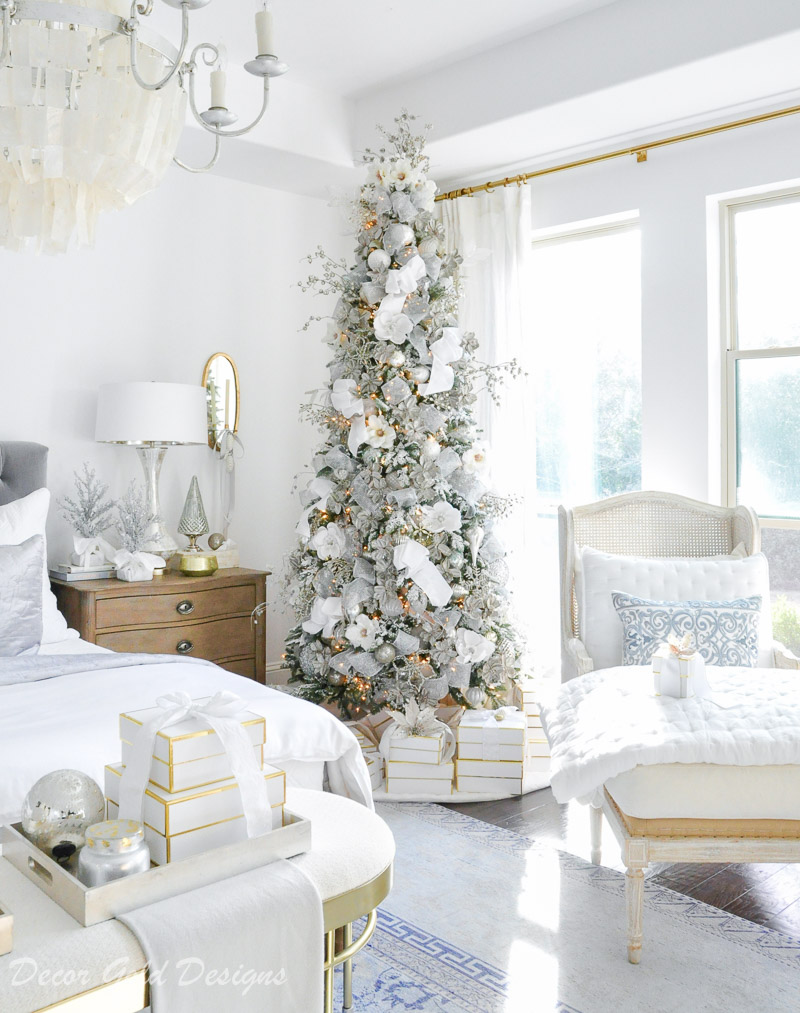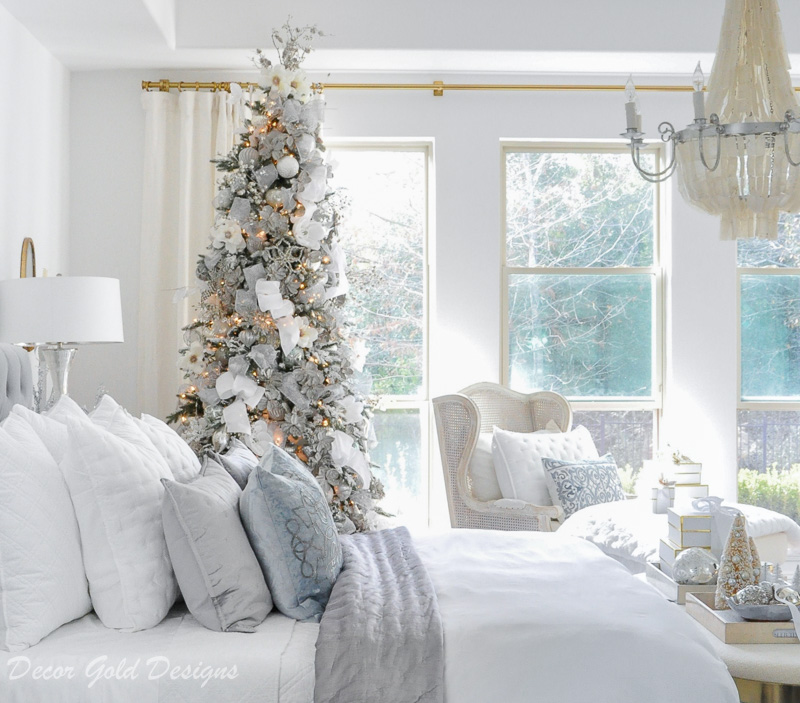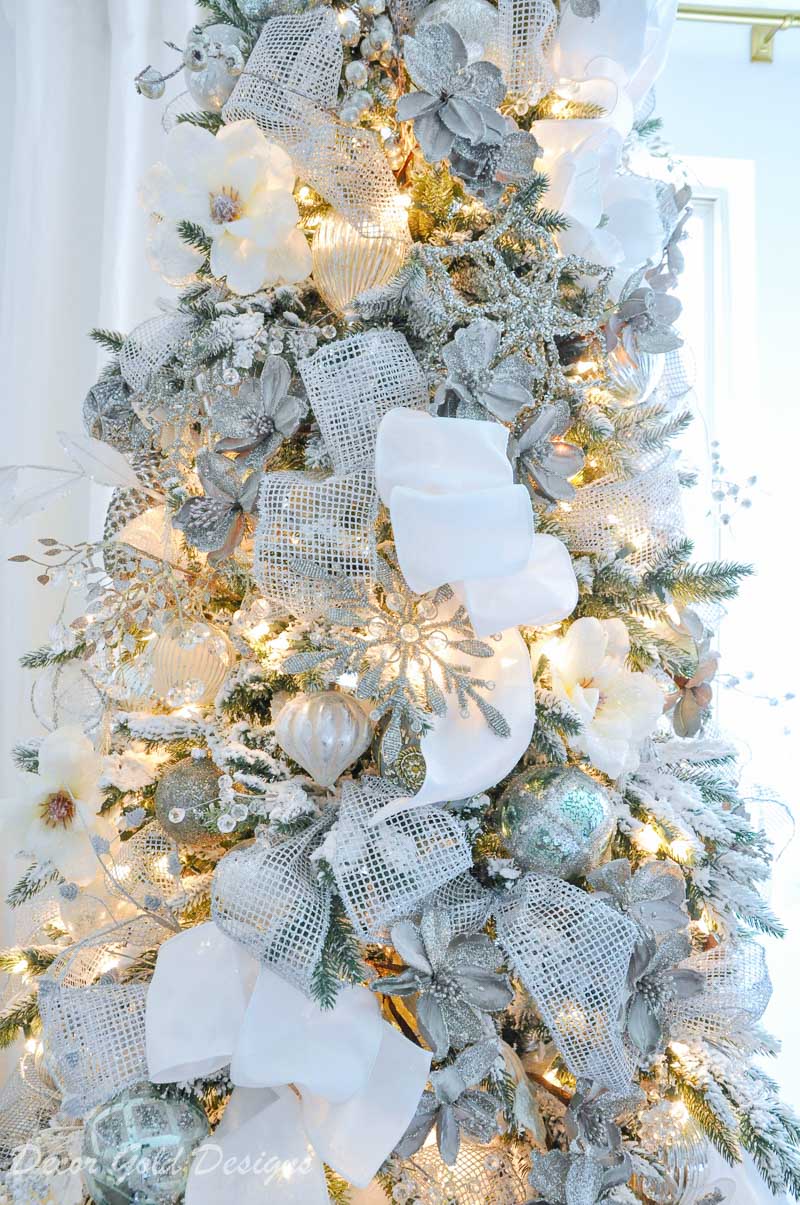 12 Assorted Picks

6 Crystal Picks

12 Silver Flowers

12 White Magnolias

8 White Ornaments

4 Green Ornaments

6 Glitter Stars or Snowflakes

Silver Mesh Ribbon

White Ribbon

Don't forget to visit my Instagram story highlights for a video of my latest tress styling.
One last favorite, our dining room tree with rose gold and blush, can be found here.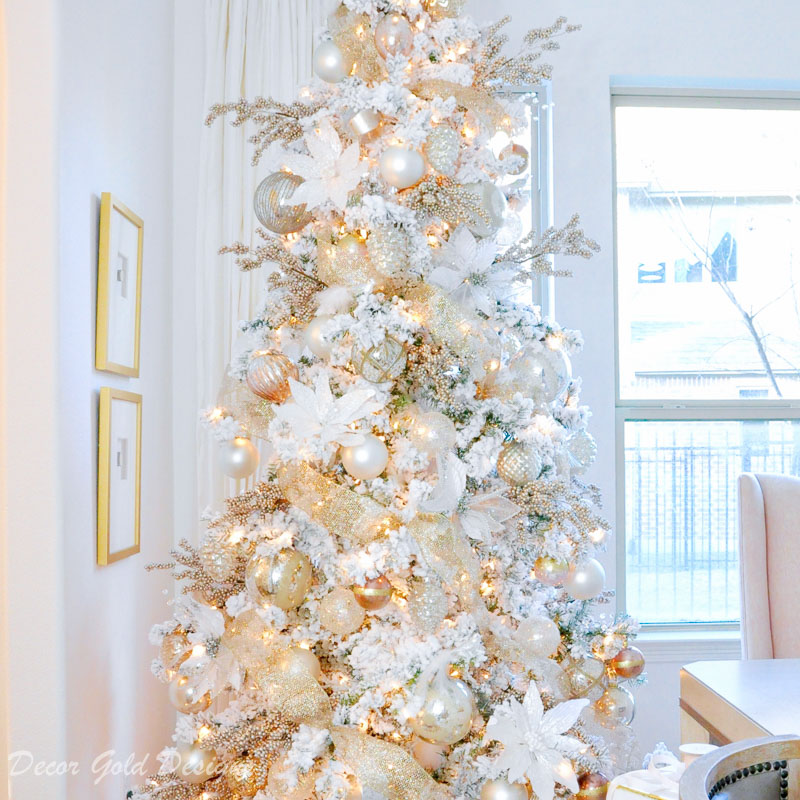 Coming soon, our Christmas bedroom, our Christmas dining room, Gift Guides, and much more!
I hope you'll stay connected…..
Click on the Image to Subscribe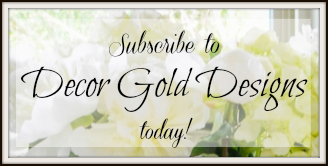 SOCIAL
Instagram | Pinterest | Facebook
Follow me on the LIKEtoKNOW.it app!