Happy organization month! Being organized just makes me happy. I love to open a cabinet or a drawer and see order. It is a huge bonus if the organized area looks beautiful too!
After packing away all of our Christmas decorations in the most organized way possible, I always feel inspired to organize a few additional spots. First on my list, my nightstand organization project.
Since my nightstand can end up becoming a gathering place for random items, I knew I needed a better system. I think I came up with a good one and I want to share it with you today.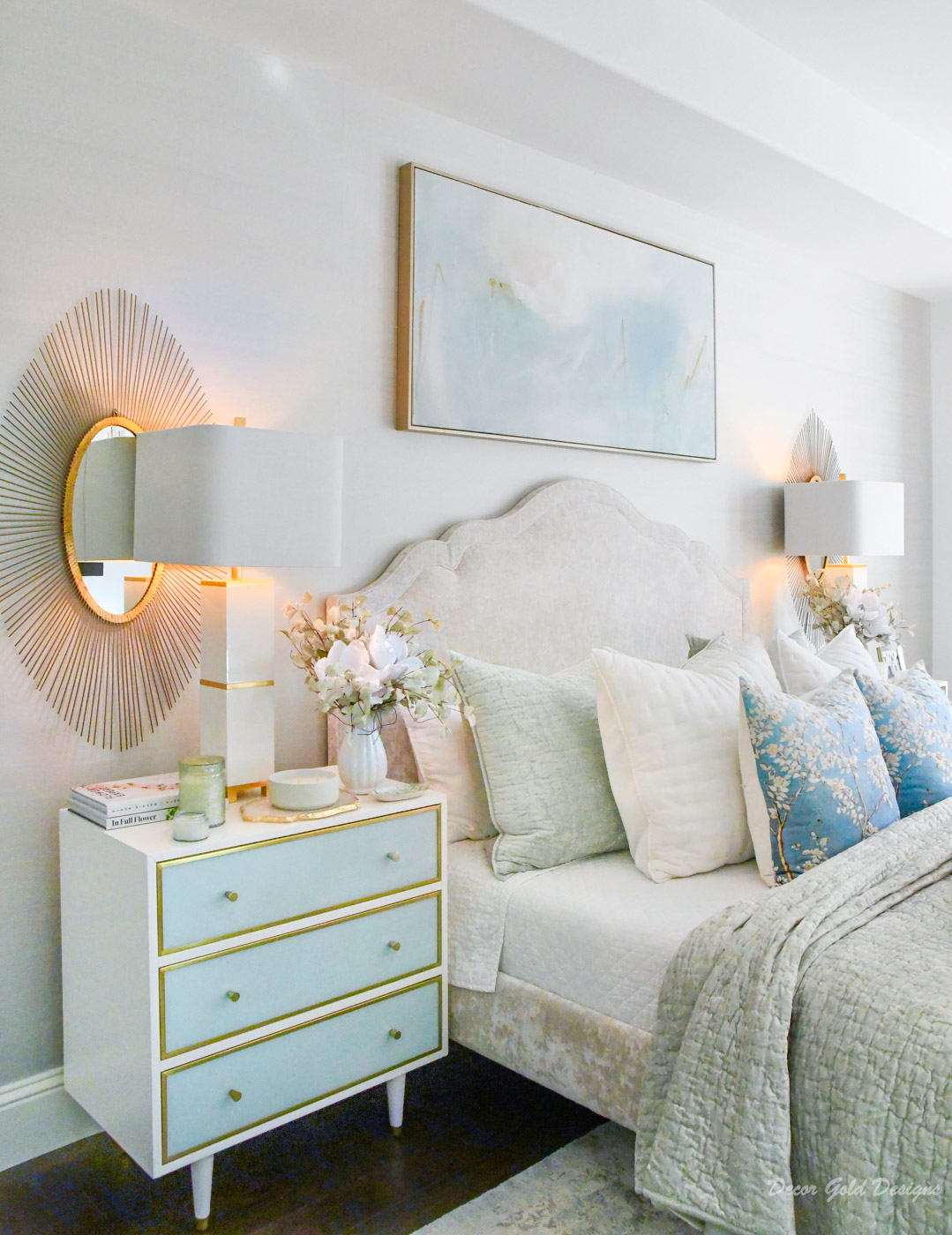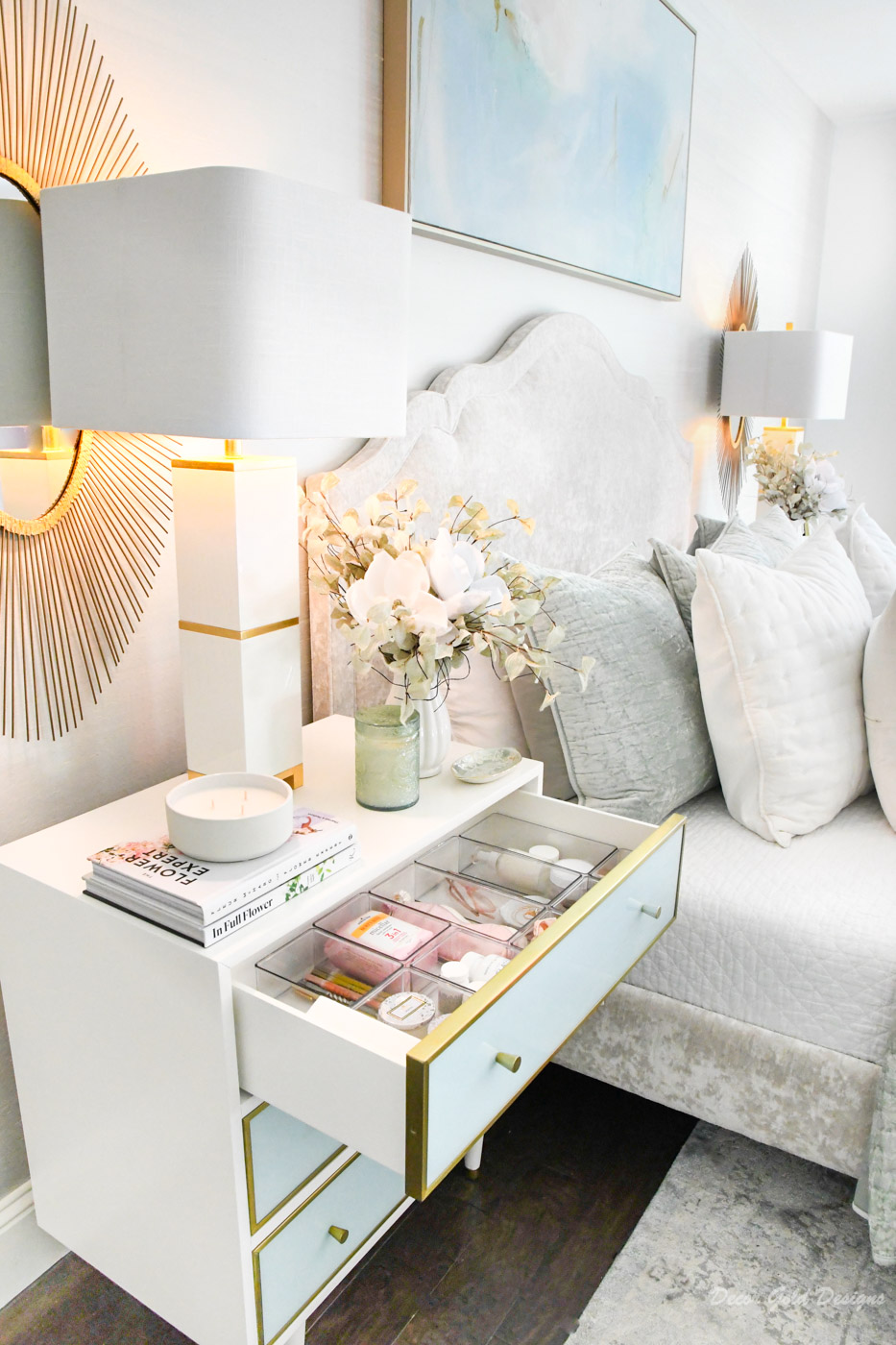 *This post contains affiliate links. Disclosure here. Additionally, I partnered with Walmart to bring you this organization project. As always, all of my opinions and selections are my own.
I am a huge fan of using clear bins for organizing. There is no better way to keep your items neat, tidy, and easily accessible. I previously had a few small bins in my nightstand, but the sizes were wrong and they were too shallow.
For this project, I purchased The Home Edit 10 Piece Bath Edit. It is a collection of modular clear plastic containers that are perfect for drawers. The containers are incredibly versatile and priced at only $24.98 for the whole set. Yes, it is called "the bath edit set" and it would definitely work well in a bathroom, but it is ideal for your nightstand.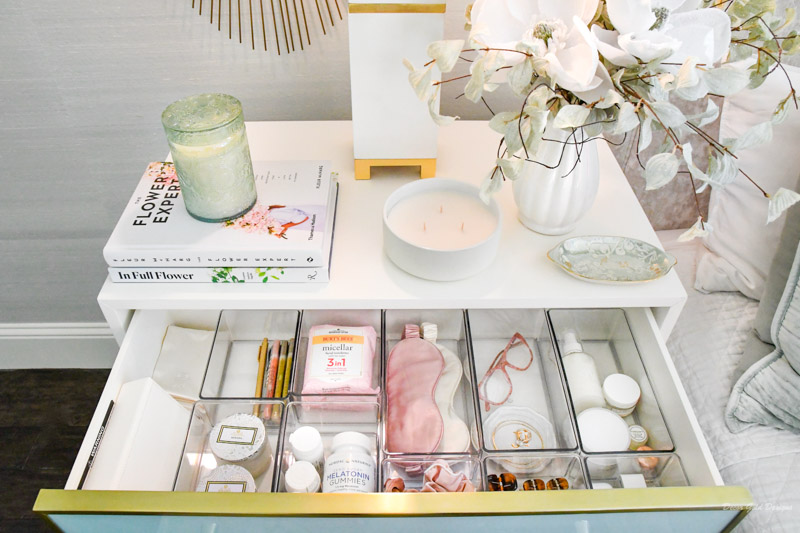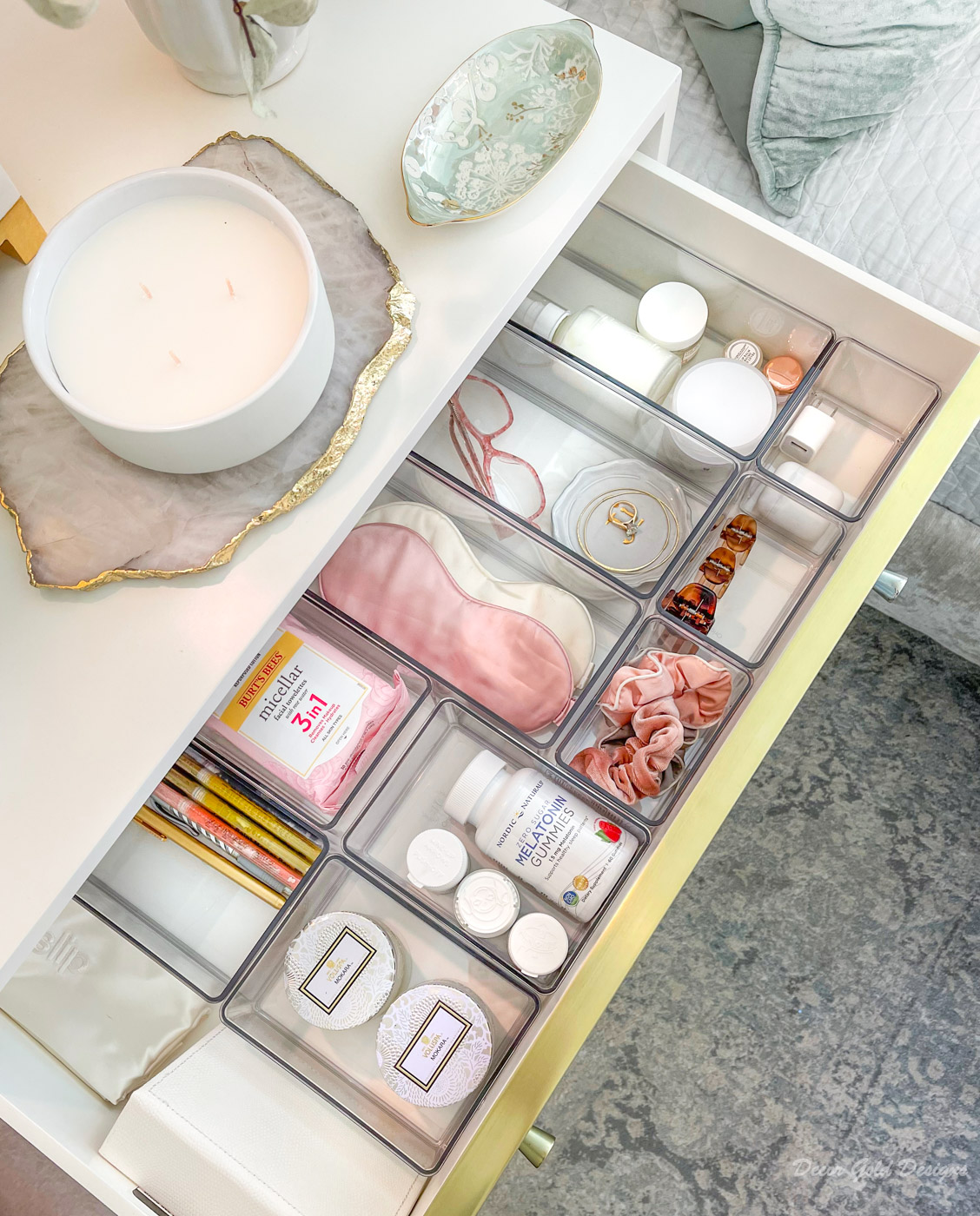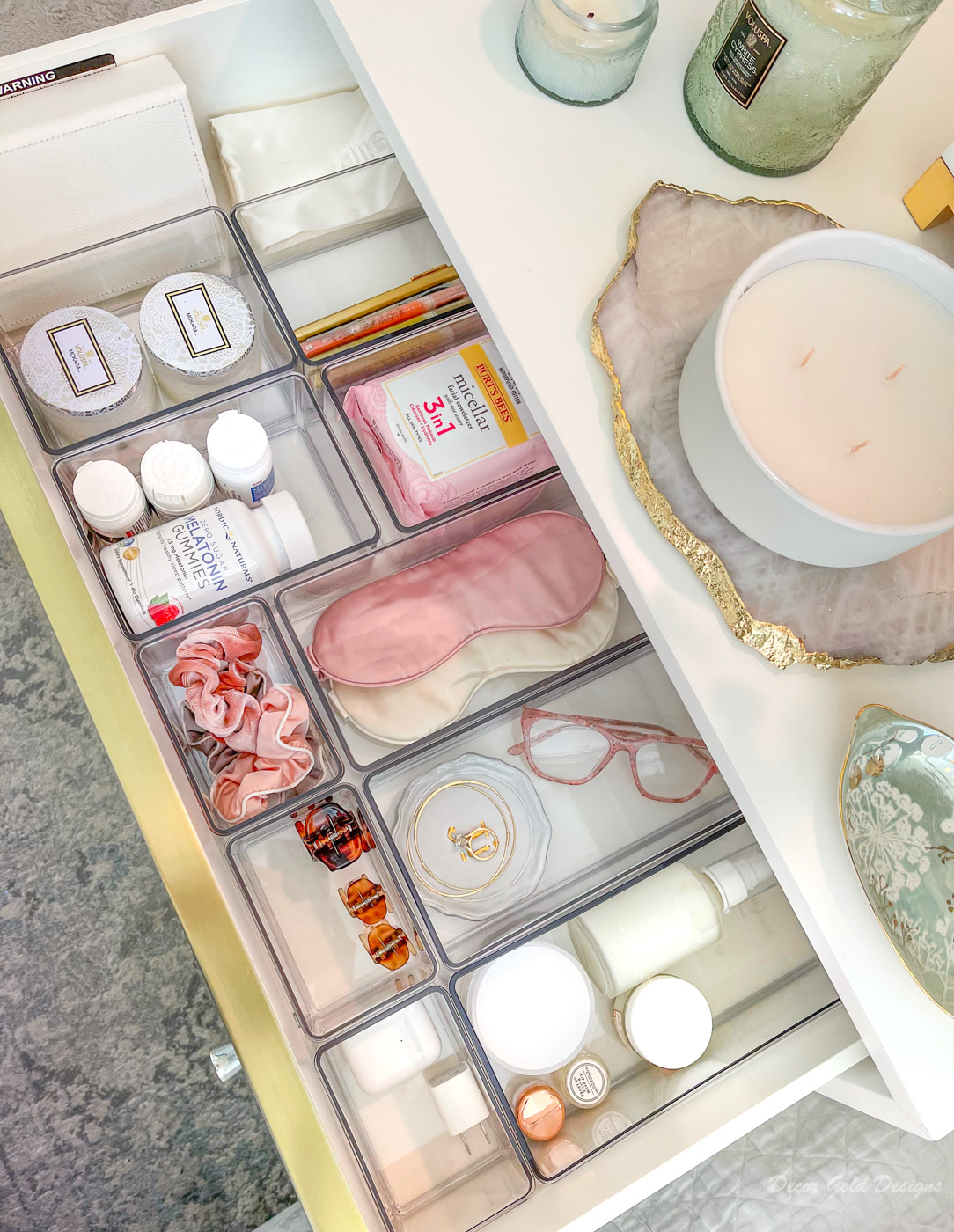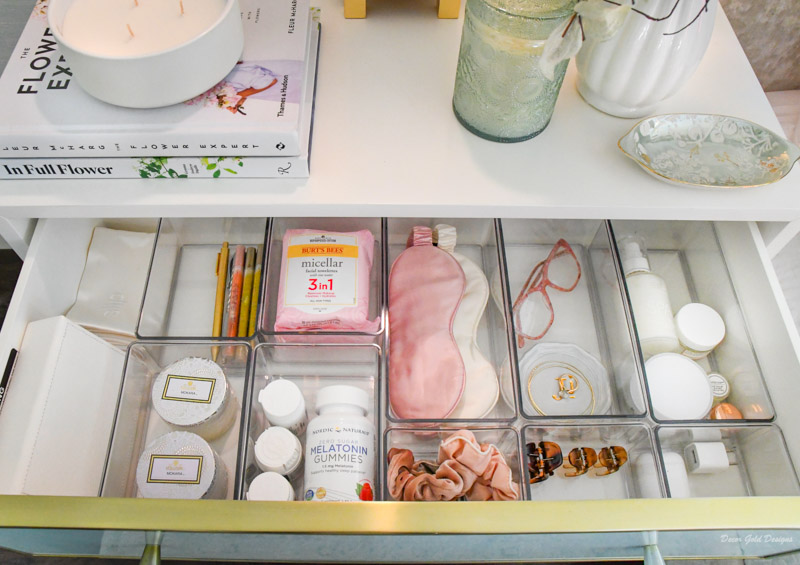 I started by emptying my drawer. You really can't properly proceed with an organization project without clearing everything out first. Of course, organizing and cleaning go hand in hand, so I wiped down the drawer while it was empty.
Next, I sorted the contents. Boy, were there a lot of things in there that shouldn't have been! I made a few piles (bathroom things, office things, kitchen things, etc.) to put away. I then discarded the items that were no longer needed.
Next, I put the clear containers into the drawer. The set I bought is sturdy and I love the depth. FYI, they are stackable too, which is great for other uses.
Finally, I added my nighttime necessities.
Let's recap……
Empty
Sort
Add clear containers
Fill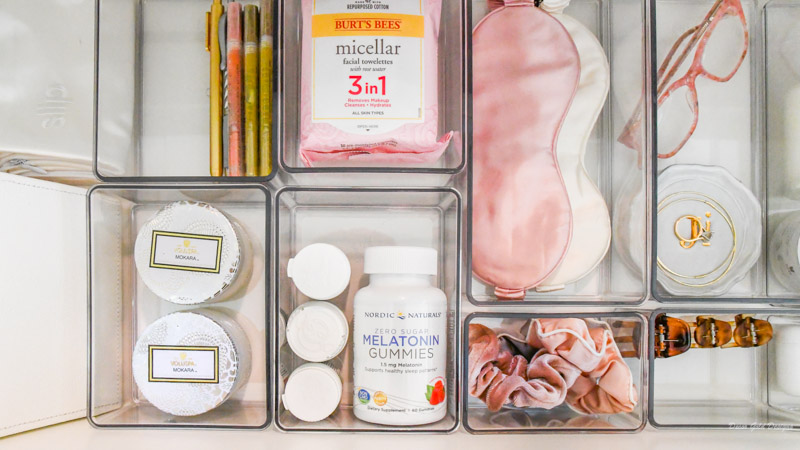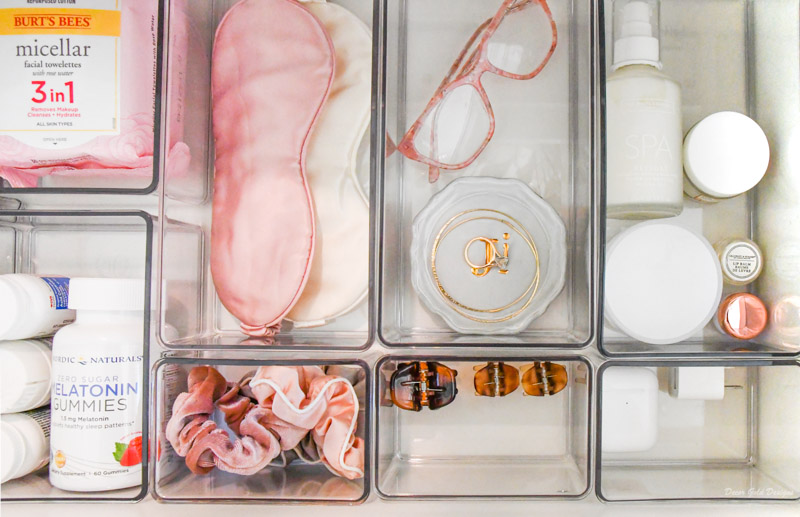 The set includes:
3 Large Insert Bins – 9.37" x 4.68" x 2.95"
4 Medium Insert Bins – 6.24" x 4.68" x 2.95"
3 Small Insert Bins – 9.37" x 4.68" x 2.95"

I filled my bins with these essentials:
Skin care favorites
Lip balm
Reading glasses
Trinket dish
Silk sleep masks
Makeup wipes
Pens
Small candles
Melatonin
Pain relievers
Silk hair ties
Hair clips
AirPods
Phone charger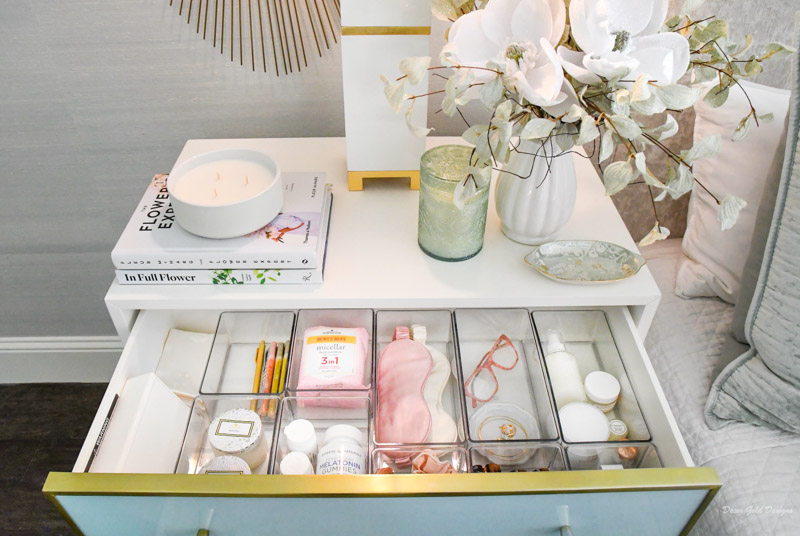 And now I don't mind if my drawer gets left open!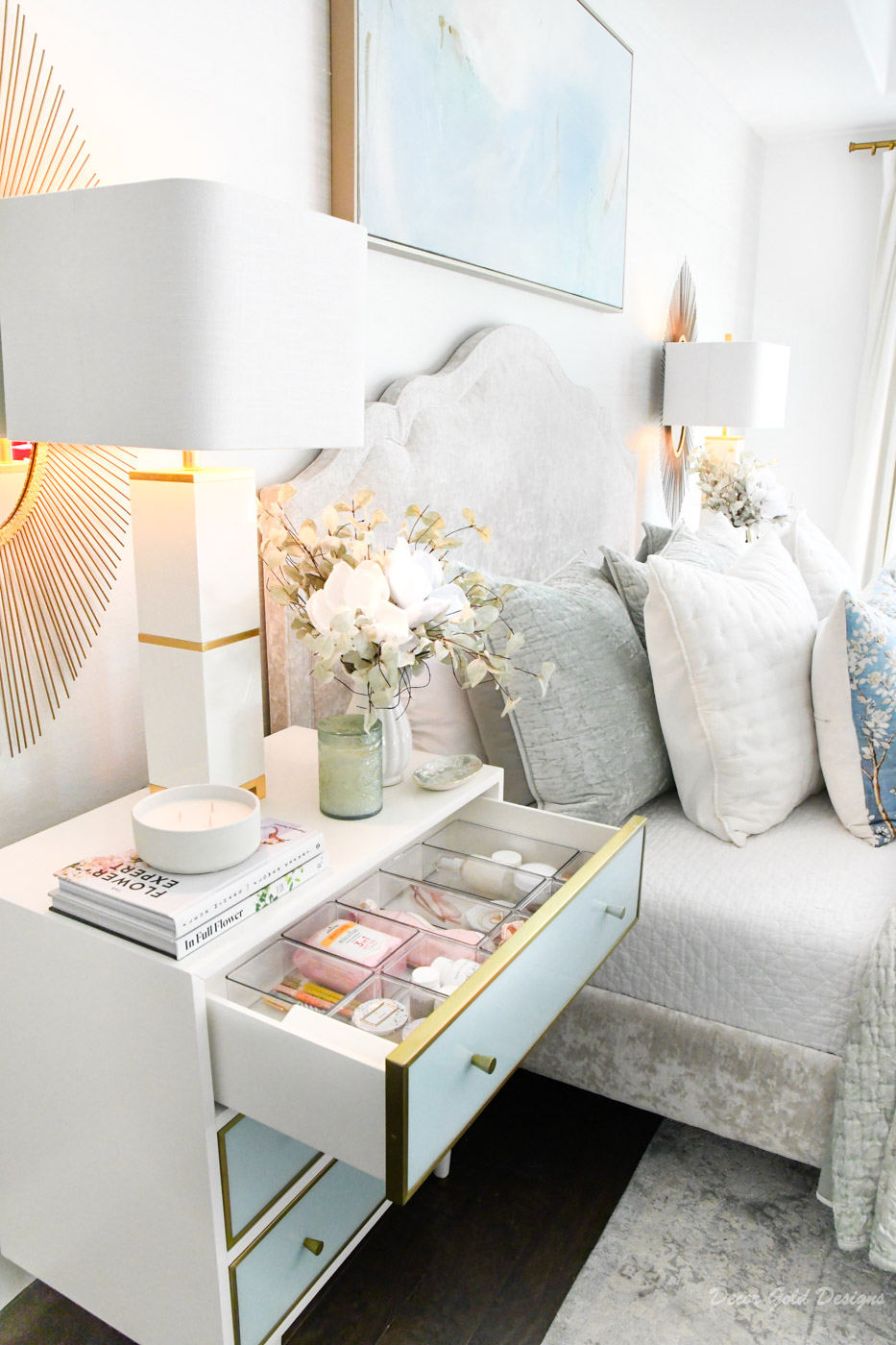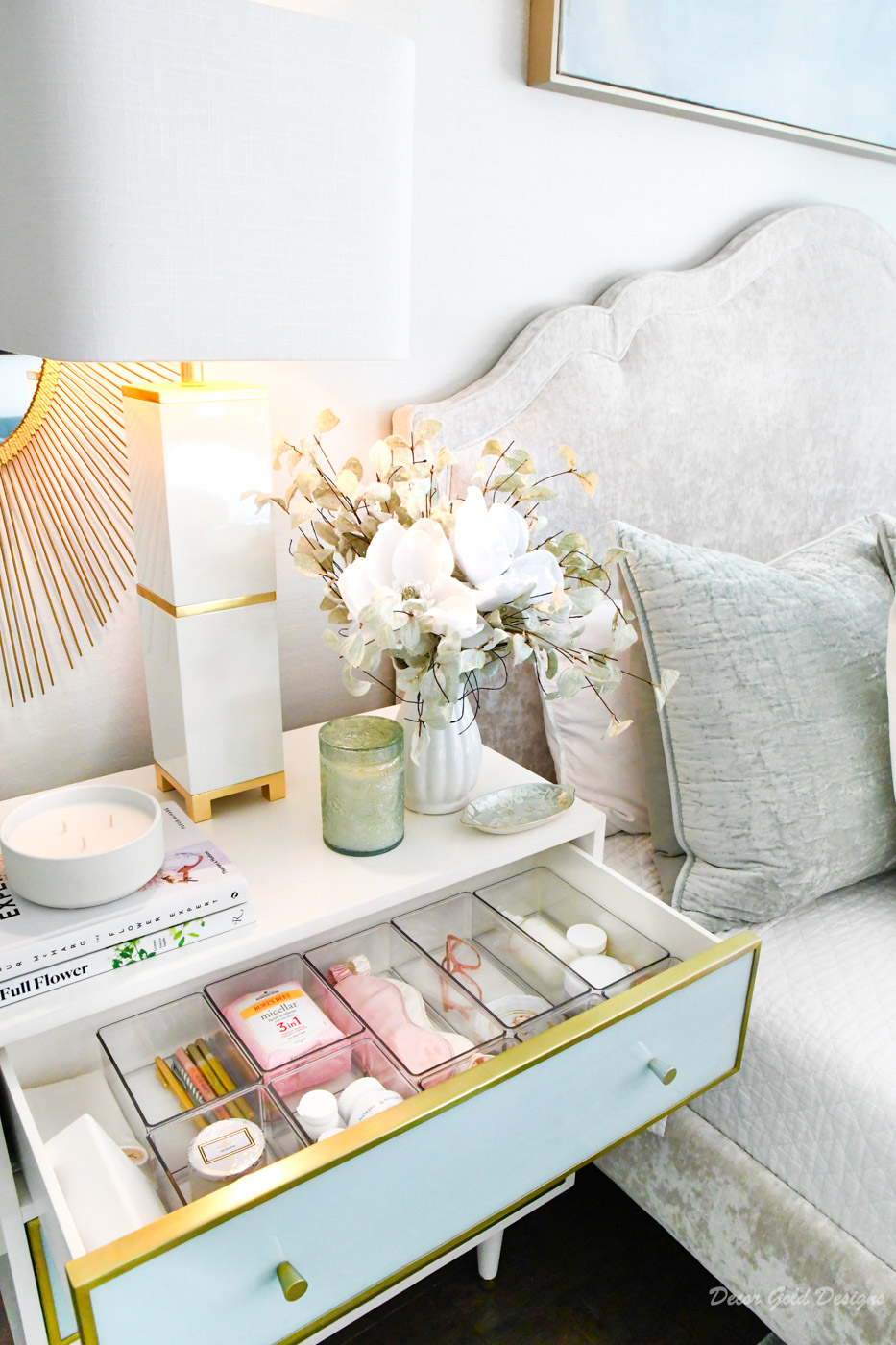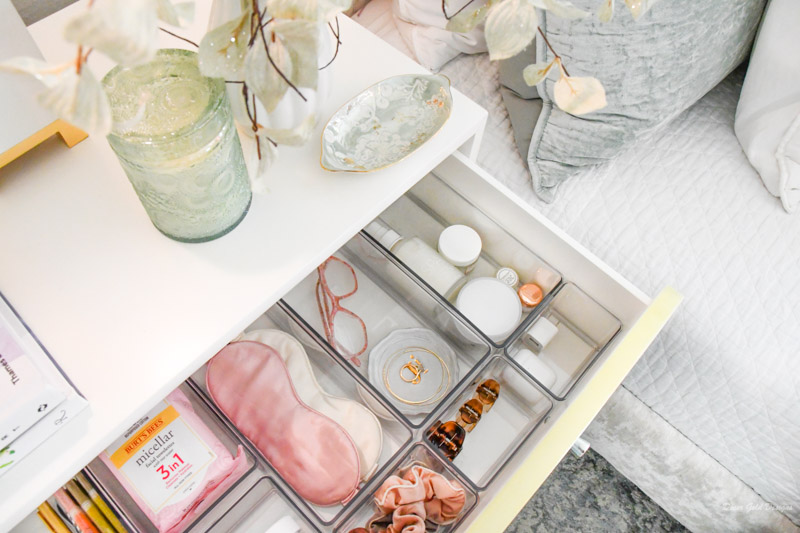 Here is the set I used filled with bathroom items:

In addition to the
10-piece set
I used,
The Home Edit
has created a line of equally amazing containers and sets, exclusive to Walmart. They are all well-priced and high-quality. I purchased the
multipurpose set
, the
pantry set
and the
laundry set
too. I used the laundry set to organize my hair products in my bathroom. Here is a peek of my bathroom organization project and a refresh I did to my pantry.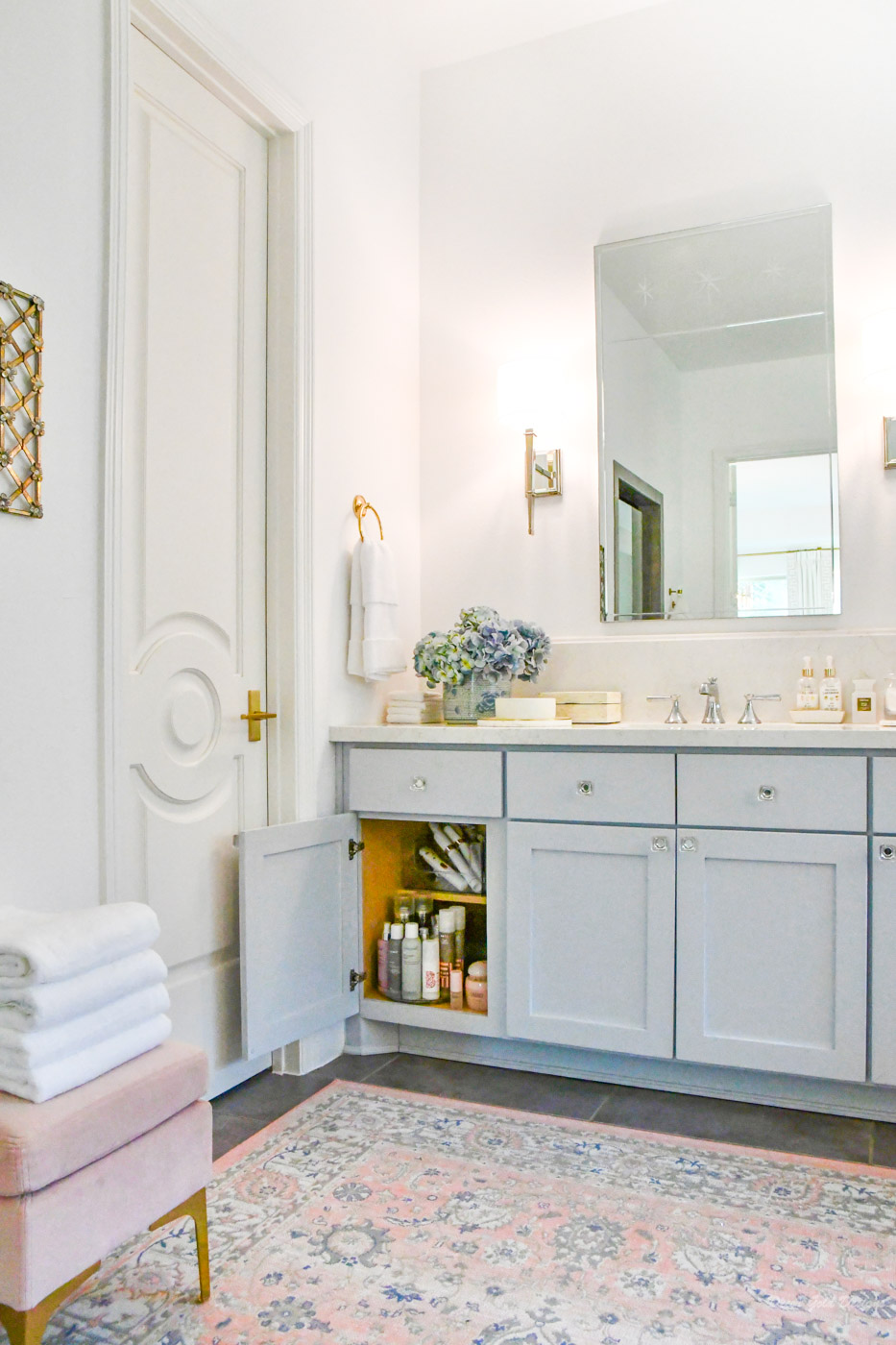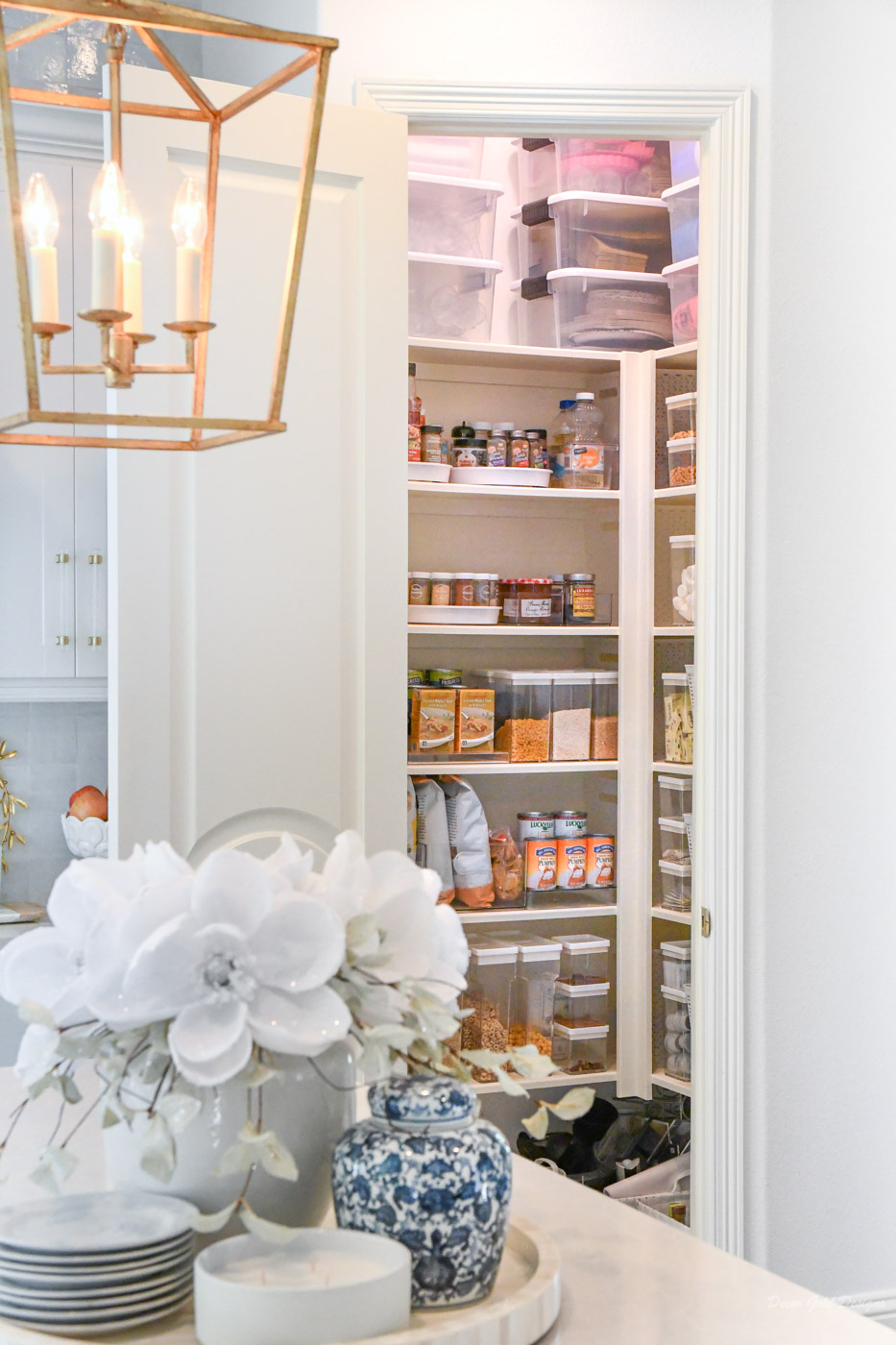 I've shopped for organizational bins at Walmart for many, many years. Probably since I was in college.
Walmart Home
has also become a great source for
kitchen items
and
home decor
over the past few years. Reasonable prices and a vast selection of items keep me very happy.

Thank you so much for visiting! For more organization projects be sure to subscribe to our newsletter!! Seasonal tours, decorating ideas, and more coming soon!
Connect with us here & never miss a post!
Click on the Image to Subscribe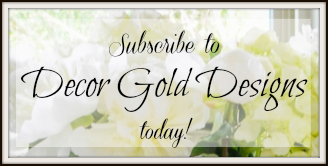 SOCIAL
Instagram | Pinterest | Facebook
Follow me on the LIKEtoKNOW.it app!