I hope you had a wonderful Christmas! We had family stay with us for a whole week and we had the best time with them. I always enjoy sharing our home, but it is especially nice to share it when it is decked out for the holidays.
I just love Christmas decorations. It is always a sad day when I begin to put them away. I almost always keep all of my holiday decor up until after January 1st, but this year, I started packing them up a little early so I could share some Christmas storage tips with you. That said, don't be surprised if our two big trees make a few more appearances (at least on social media) before I take them down.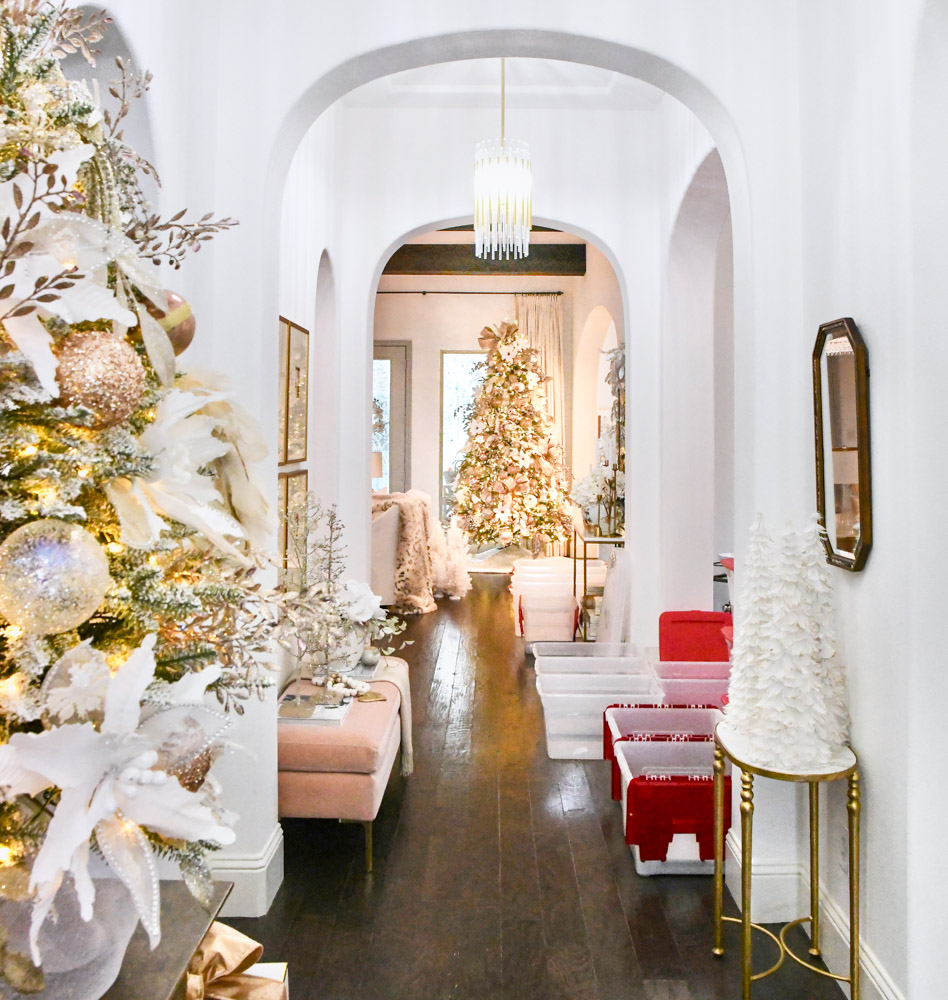 Back to storage tips though….getting your house in order after Christmas can be quite a task. There are a few things I do each year to stay organized. Having the right storage containers is key, but there is more. Please join me for a few Christmas storage tips and check back soon for winter decorating ideas!
*This post contains affiliate links. Disclosure here. Additionally, I partnered with Walmart to bring you these Christmas storage tips. As always, all of my opinions and selections are my own.
Tip 1 – Invest in storage bins
Invest in storage containers to keep your Christmas decorations neat and organized. Unless your decor comes in very protective packaging, recycle the original boxes. They typically look messy and will cause your storage area to lack organization.
I use bins for everything possible. They are amazing for organizing decor, ornaments, gift wrap, and more. I love that bins look neat and can be stacked.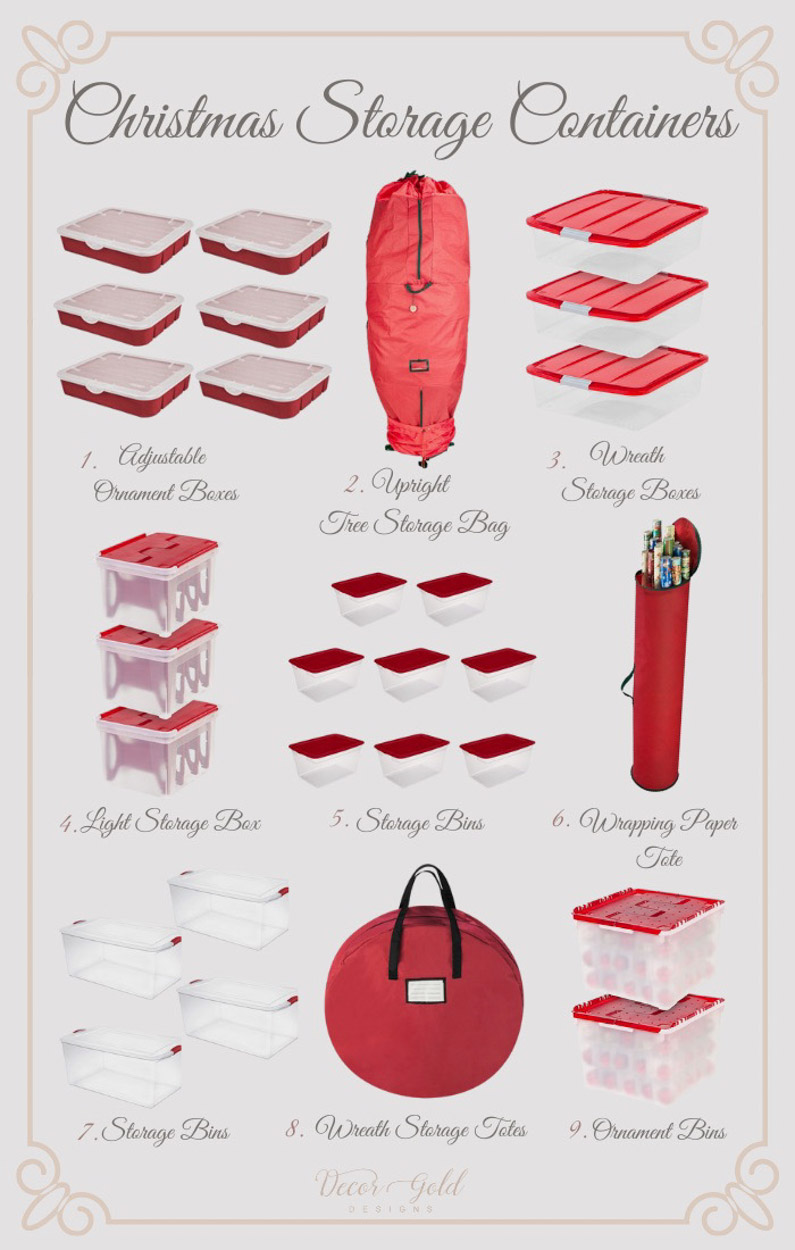 I added a few this year including large bins (similar), which I use for floral picks, shatterproof ornaments, garland, gift boxes, mini-trees, mini-wreaths, and garland. I am careful to use large bins for lightweight items so they don't get too heavy to carry or to stack.
My medium bins (similar) are also great for shatterproof ornaments. Additionally, they hold little holiday houses, bottlebrush trees, snowflake ornaments, ribbons, linens, stockings, and tree skirts.
Also, divided ornament bins are perfect for delicate items. These are very sturdy and well-made.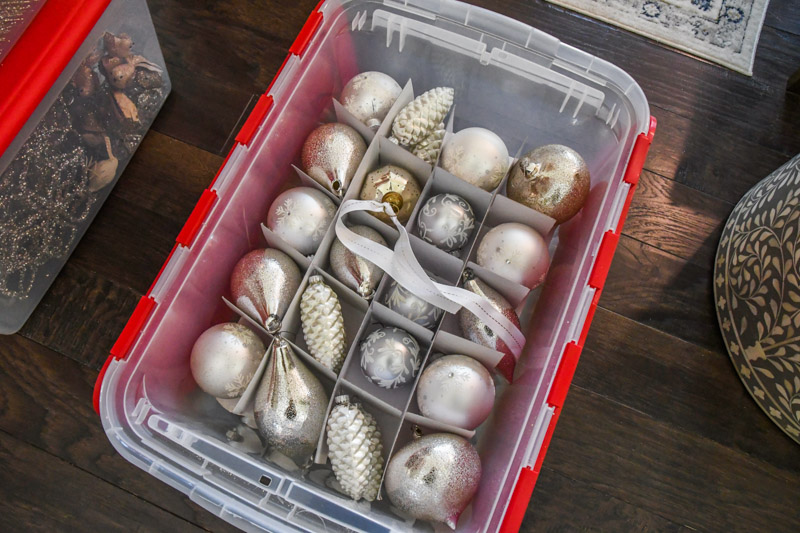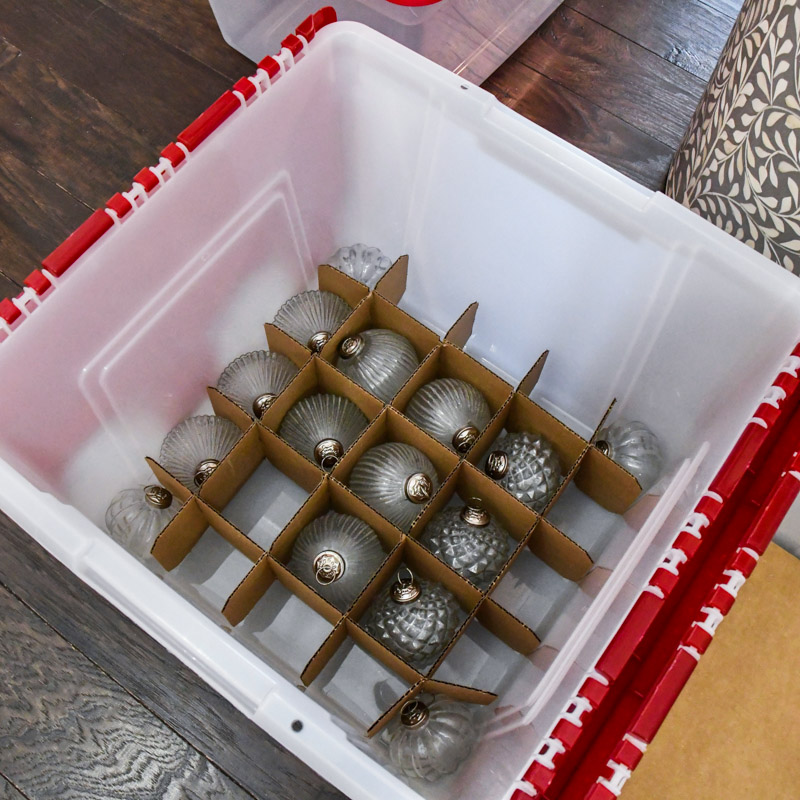 I also have a wrapping paper storage box that fits quite a few rolls of paper.
I open up all of my bins before I get started. Bailey, of course, is here to help. 🙂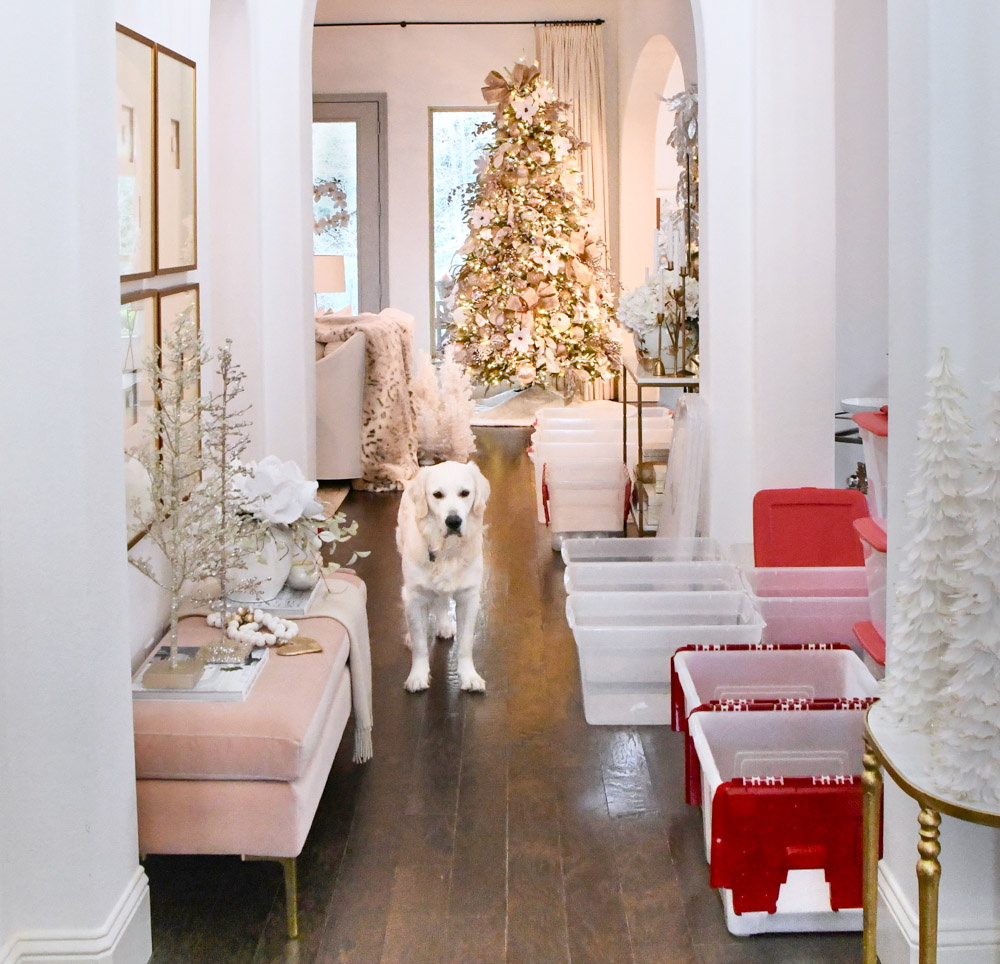 Loading these was very quick. Also, you'll notice I have trays and bowls on my counter. I occasionally use some of them to gather ornaments before packing them.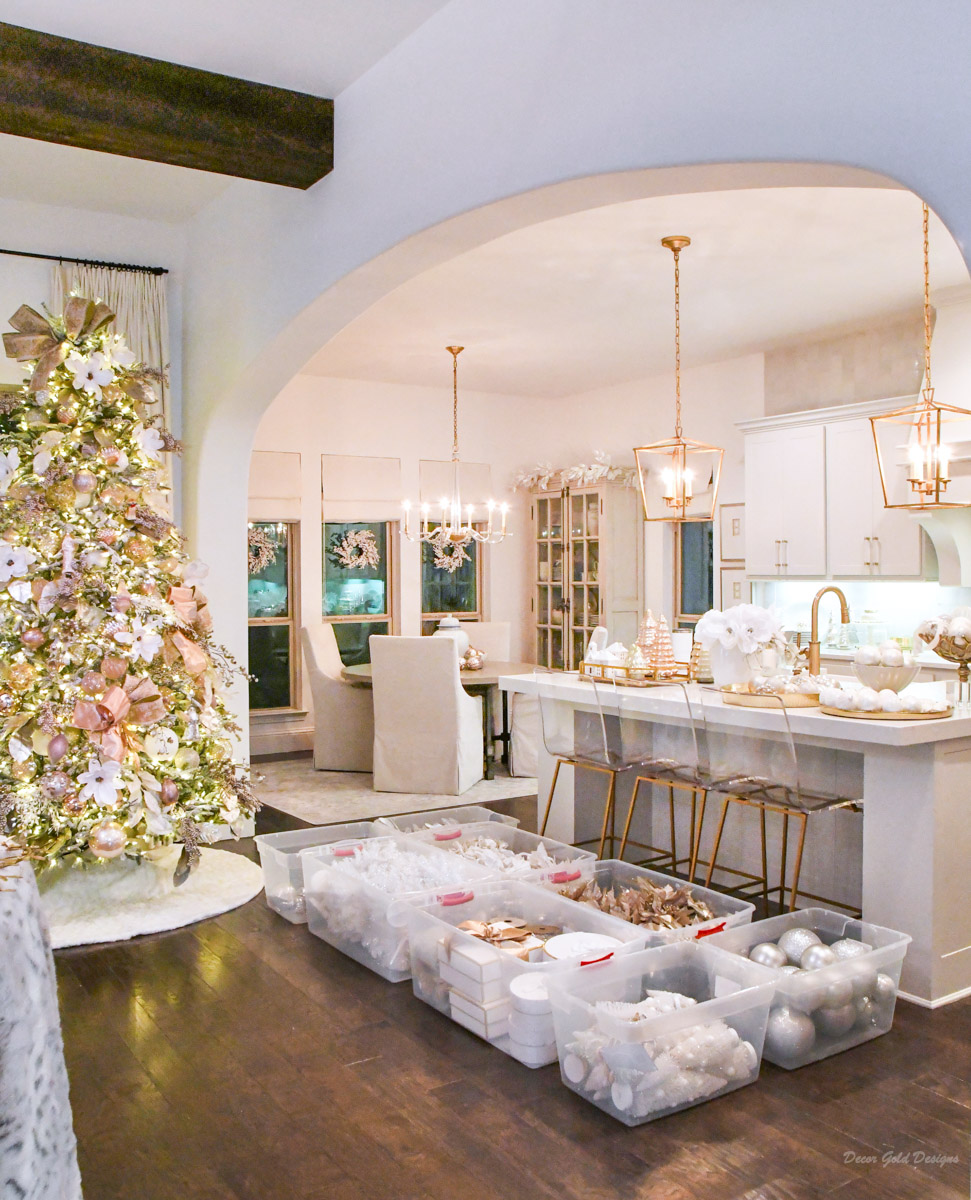 Tip 2 – Label your containers
Label all containers. Use clear containers when possible so you can see the items stored inside.
Tip 3 – Make repairs
Make sure you are only packing up decorations and ornaments that are in good shape. This is the time to repair or discard broken items. You will be so glad you did when the next holiday season arrives.
Tip 4 – Pack properly
Pack like items and colors together.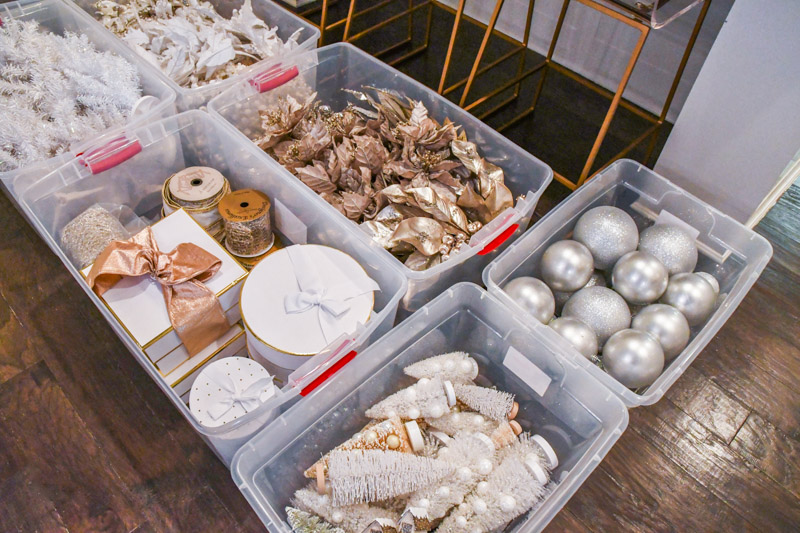 Use bubble wrap or tissue paper to protect your delicate items.
Tip 5 – Use tree bags if possible
If you have room for upright storage, I highly recommend that you store your trees in tree storage bags. We have been using these bags for a few years and I can't say enough about how much I love them. They help keep my trees looking great because the trees don't get crushed as they would in storage boxes. Also, much less fluffing is required when the trees are pulled out of the bags.
It took Tony only a couple of minutes to cover my office tree with this bag.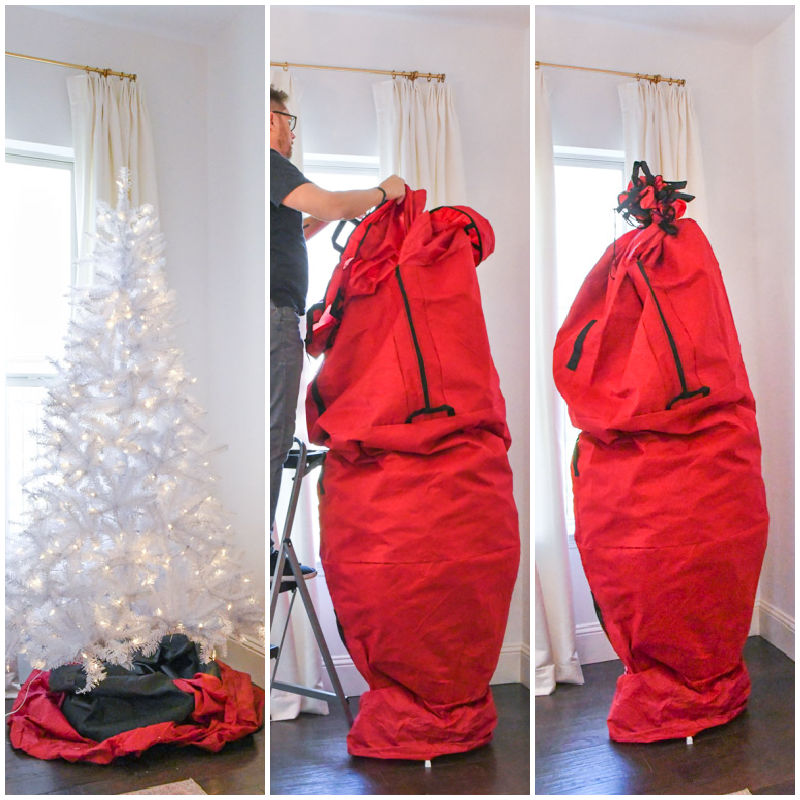 I also use storage boxes or storage totes for my wreaths.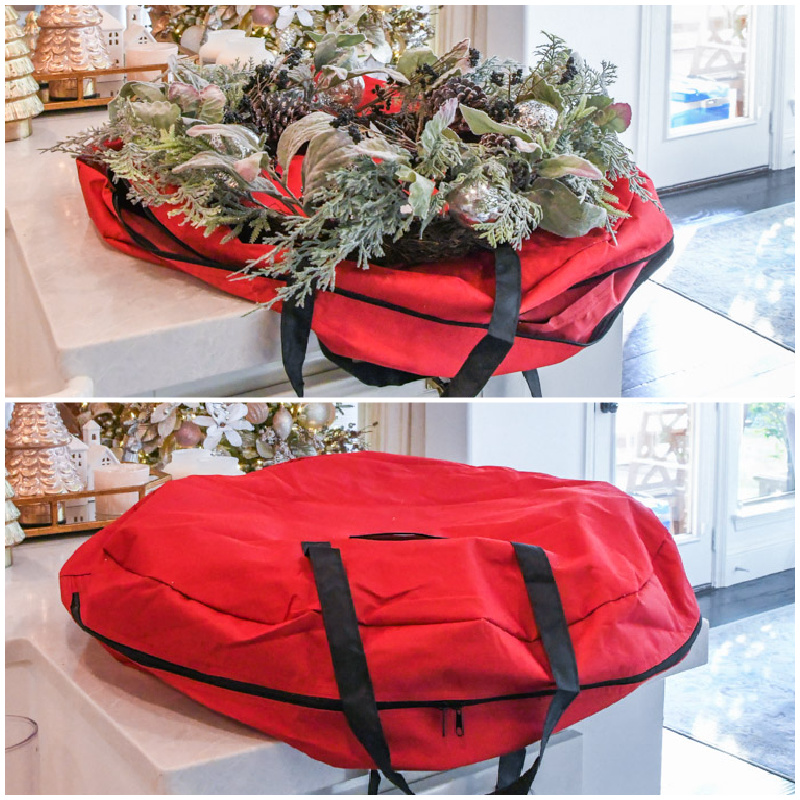 All of my storage containers are from Walmart. Walmart has actually been my go-to source for storage containers during my entire adult life. They have a vast amount of quality options at very reasonable prices. Plus, they deliver them to my doorstep, which makes me happy. Free shipping and returns (on most items) makes me even happier. 😉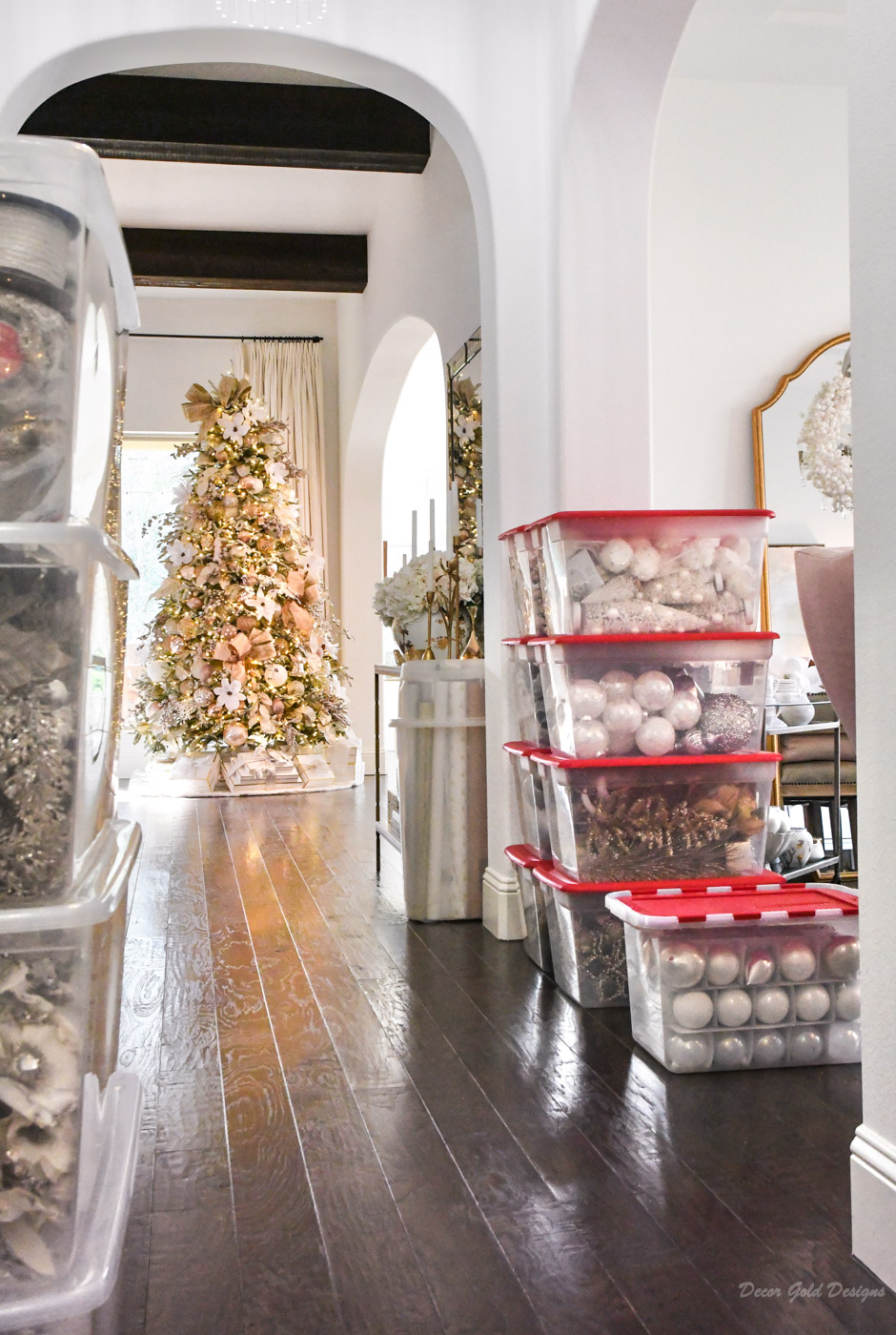 With the tips above, you can properly store your decor and get your home looking beautiful for winter. As a bonus, you'll be organized for next year too!
Looking for winter decorating ideas?
2019 Winter Home Tour | 2020 Winter Home Tour
Thank you so much for visiting! For more newly updated spaces, decorating and organizing tips, and much more, be sure to subscribe to our newsletter!!
Connect with us here & never miss a post!
Click on the Image to Subscribe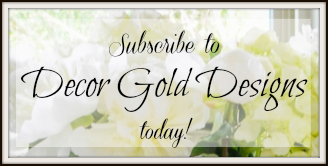 SOCIAL
Instagram | Pinterest | Facebook
Follow me on the LIKEtoKNOW.it app!