Happy Valentine's Day! It's that time of year again. As soon as the Christmas decorations come down, the red and pink hearts commence their domination at nearly every turn it seems. As you may have figured out by now, the very last word in my personal dictionary is "conforming." Who says Valentine's decor has to be red and pink? We want to inspire you to think outside the box. When setting a holiday table, you should always stay true to yourself and your design taste. Our home is very neutral, and often the only color you will distinctly notice is in the fresh flowers we purchase. I thought it would be fun to skip the red roses and pink hearts and put together an elegant dining table for a small Valentines dinner party.
Valentine's Day has historically been a "couples" holiday. So, why not change it up a bit? Invite two to three couples over for dinner and allow them to share  your dining table which I hope fits your personality and style. I love fresh flowers and subtle hints that relate to the theme of the evening. Below you will find examples which I hope you will find inspiring and relevant to your decor goals. Please enjoy the tour and I would be grateful if you would tell a friend about Decor Gold Designs! Thank you so much for visiting.
Some affiliate links have been used in this post.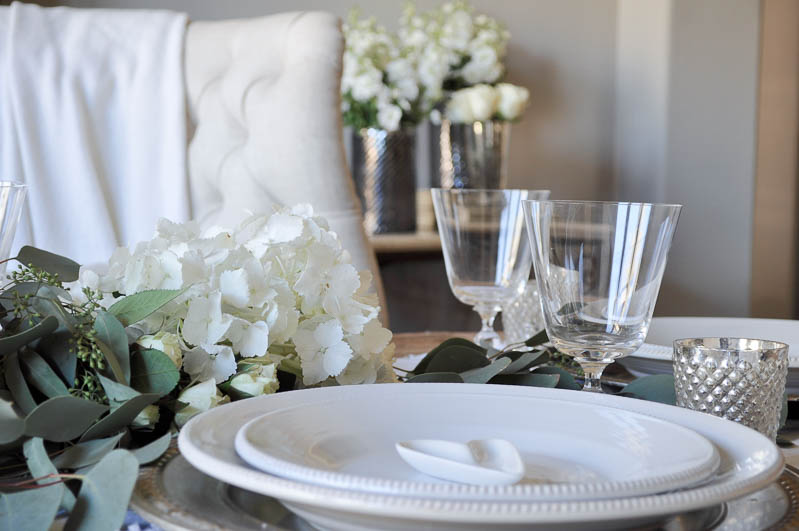 Simple white dishes are a classic choice.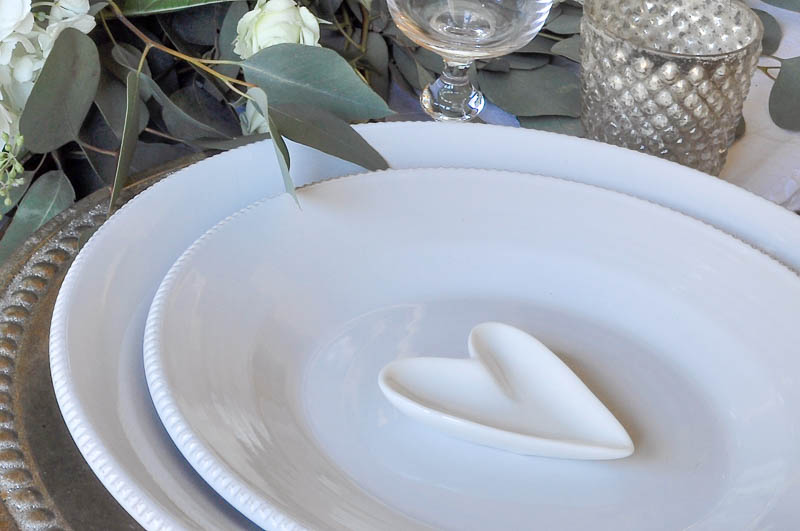 Eucalyptus provides the base for a garland-style table runner.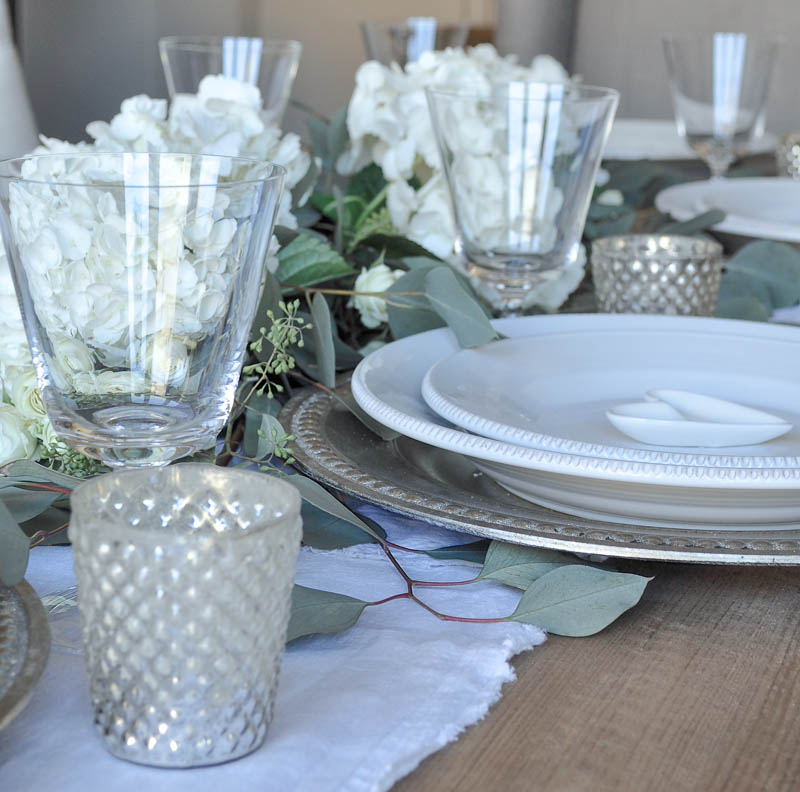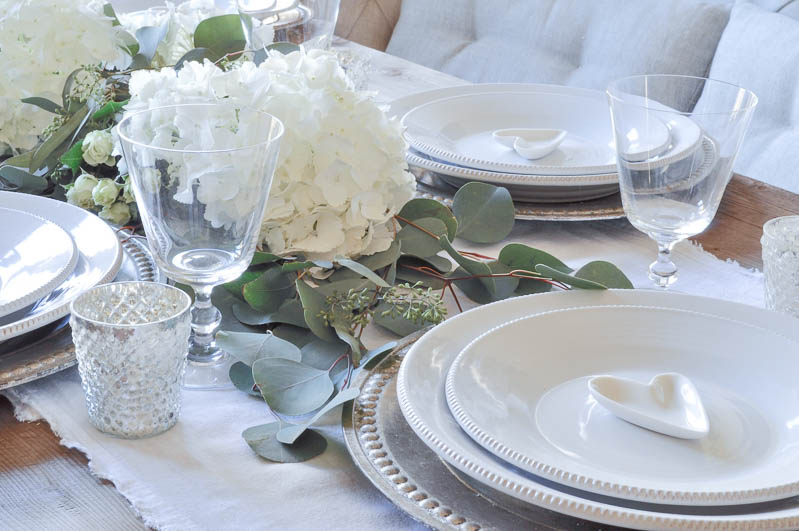 Hydrangeas and miniature roses, both packed with petals add delicate beauty to the greenery.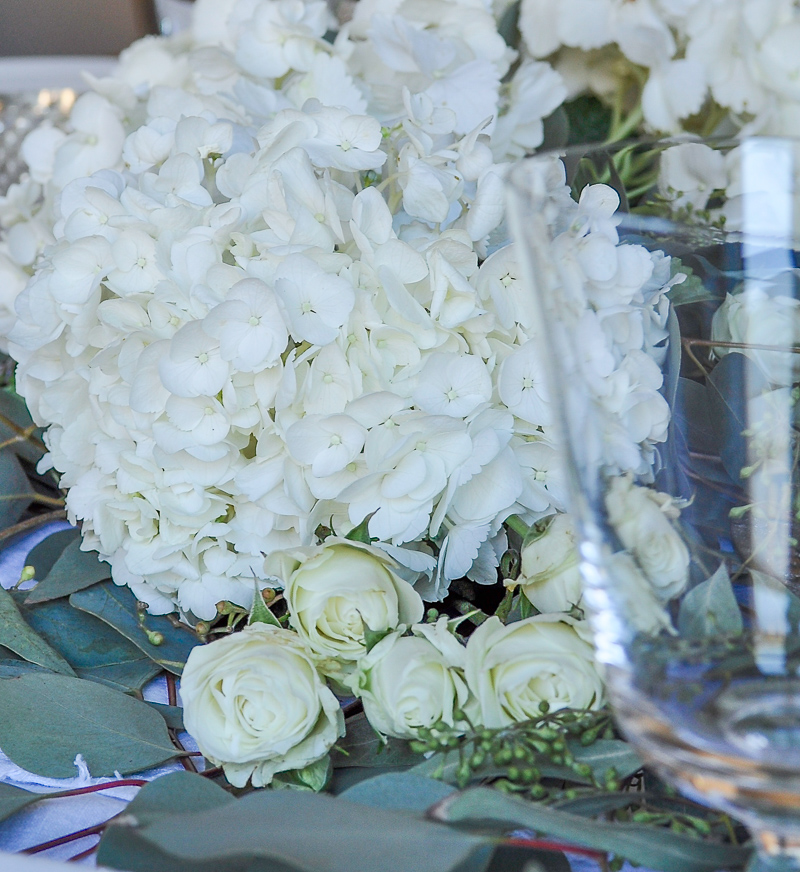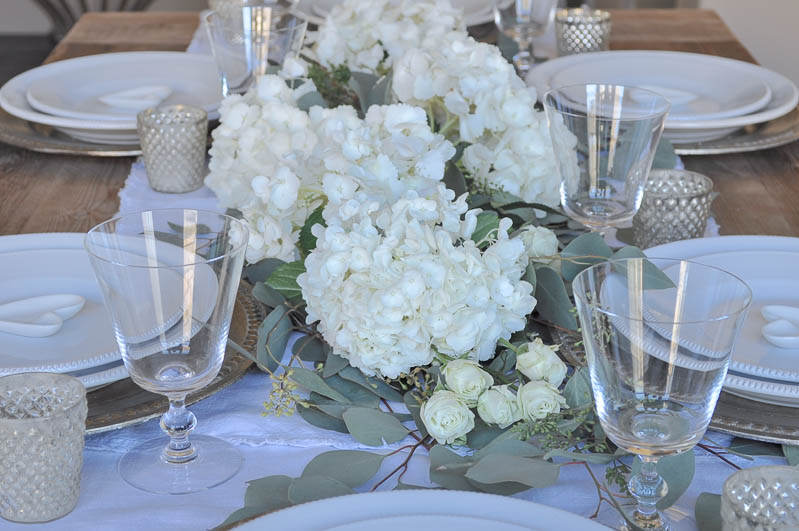 Tiny mercury glass hearts hang from the chandelier.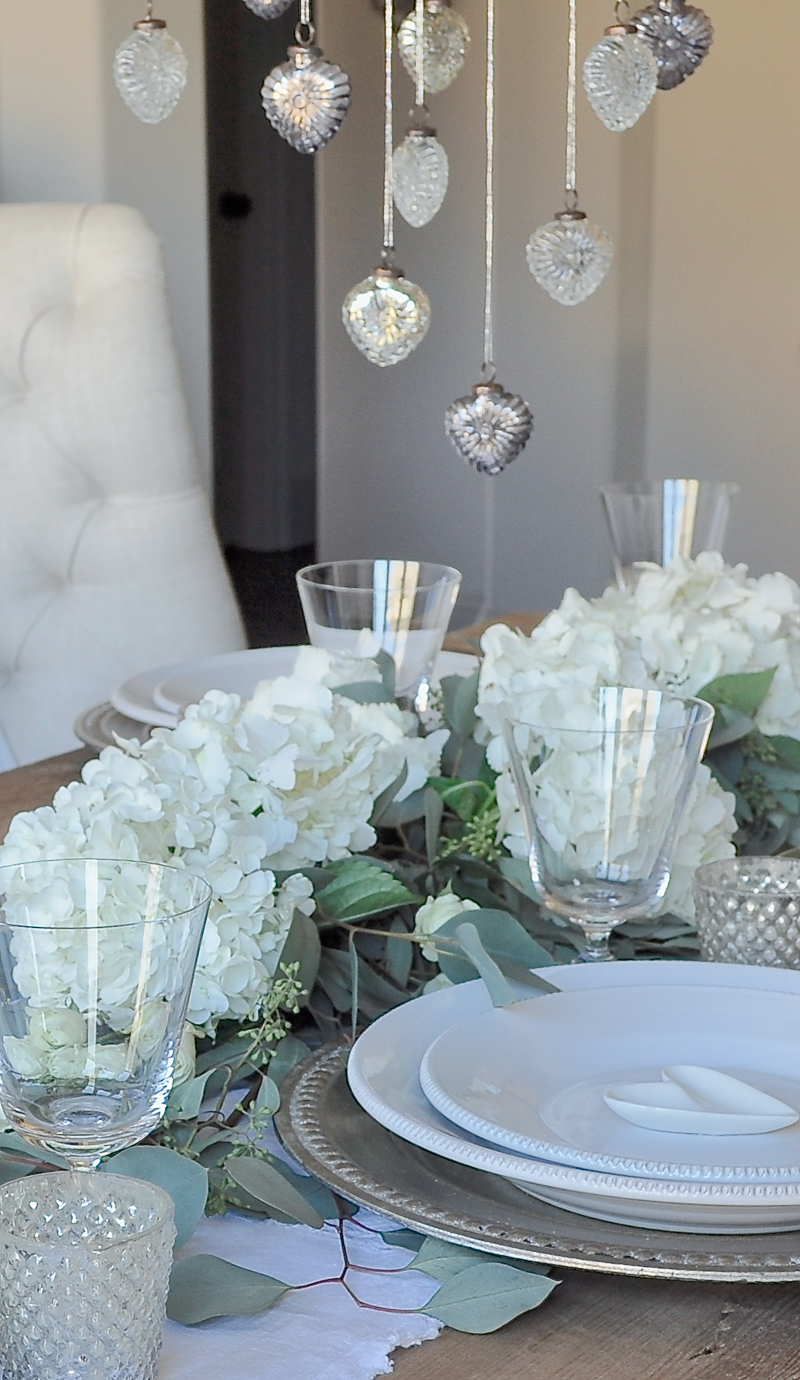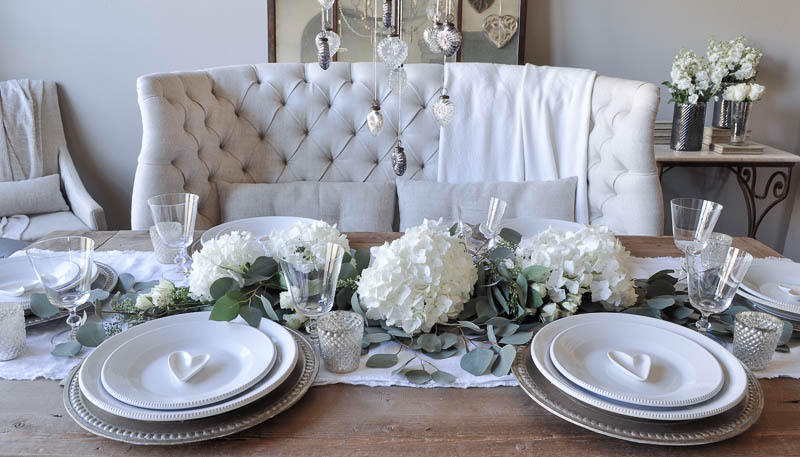 On the plates, a small heart-shaped dish acts as a subtle Valentine's symbol.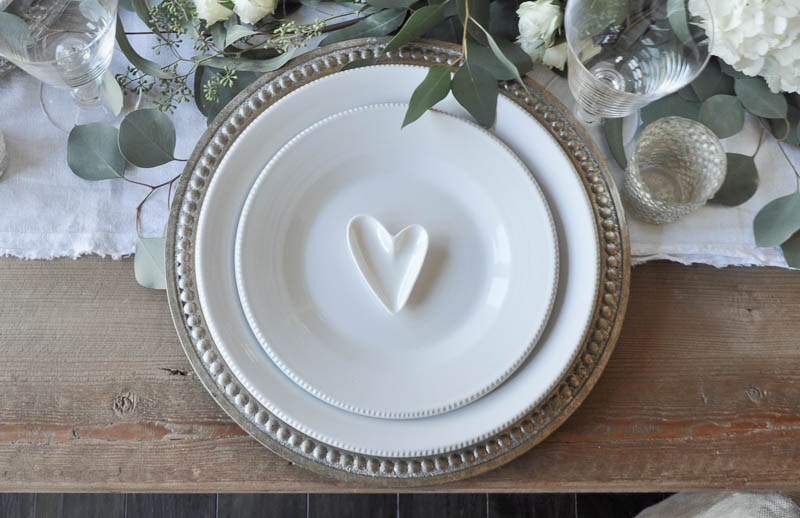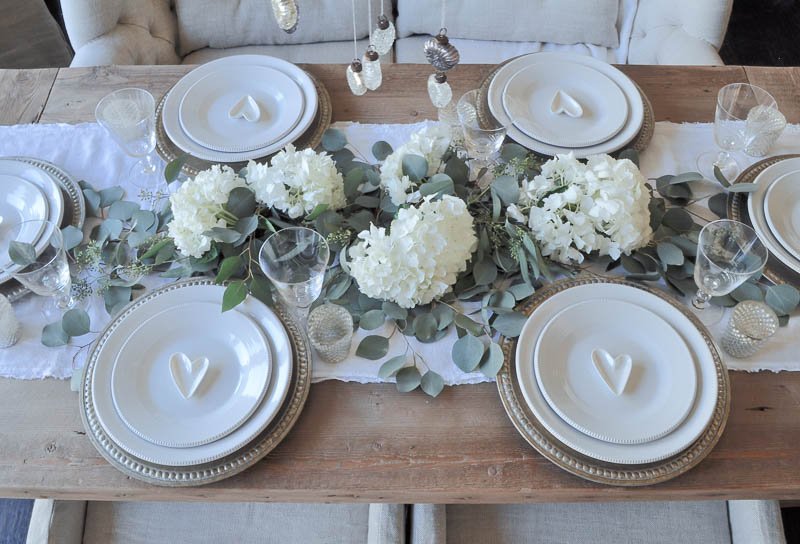 Votives with candles help set the mood.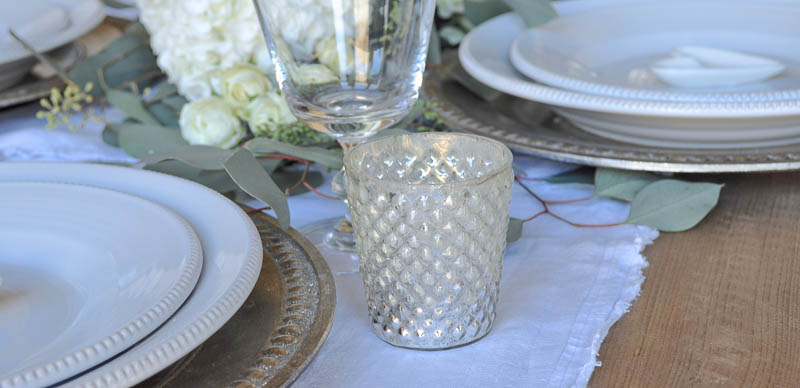 Happy Valentine's Day!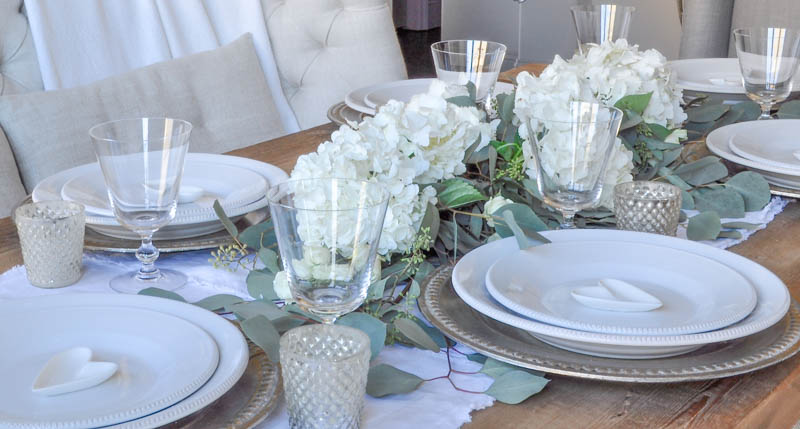 Sources are listed below. A full dining room Source list can be found here.
Similar White Runner
Similar Glassware
Similar Slipcovered Chairs
Similar Wingback Chair
Similar Settee
For additional Valentine's Day table ideas, visit my Valentine's Dinner Party.