Are you excited about the holidays this year? I know I am! I even started planning our Christmas trees a month or two ago. Now, our first tree of the year is up and I am in love!
I decided I wanted to create a sophisticated Christmas tree in blush and gold and I am so happy with the look! Today, I'll be sharing it, a couple of darling tabletop trees, and some gorgeous ornaments.
*This post contains affiliate links. Disclosure here. Additionally, I partnered with Balsam Hill to bring this post to you. As always, all of my opinions and selections are my own.
New Christmas Tree
I had been in search of another Christmas tree when I found a beautiful new frosted tree from Balsam Hill. As soon as we unboxed our new Frosted Fraser Fir Christmas tree, we knew we had picked a special one.
Then, when it arrived and we first plugged it into the outlet, it instantly felt like Christmas and the holiday season was here!
Several times, Tony said how nice it is, and he even offered to fluff it for me! Um, yes please! A quick tip I'd like to share: if you fluff each layer of branches of each section as you assemble the tree, it is a much easier process. Another thing, Balsam Hill provides protective gloves to wear while shaping your tree……so helpful.
The BH Frosted Fraser Fir definitely has a wow-factor. It is very full and has the perfect amount of frosted snow which perfectly resembles the season's first dusting. We admired it undecorated for a couple of days in part because we were in awe as to how realistic and truly beautiful it is.
Now decorated and styled, here she is!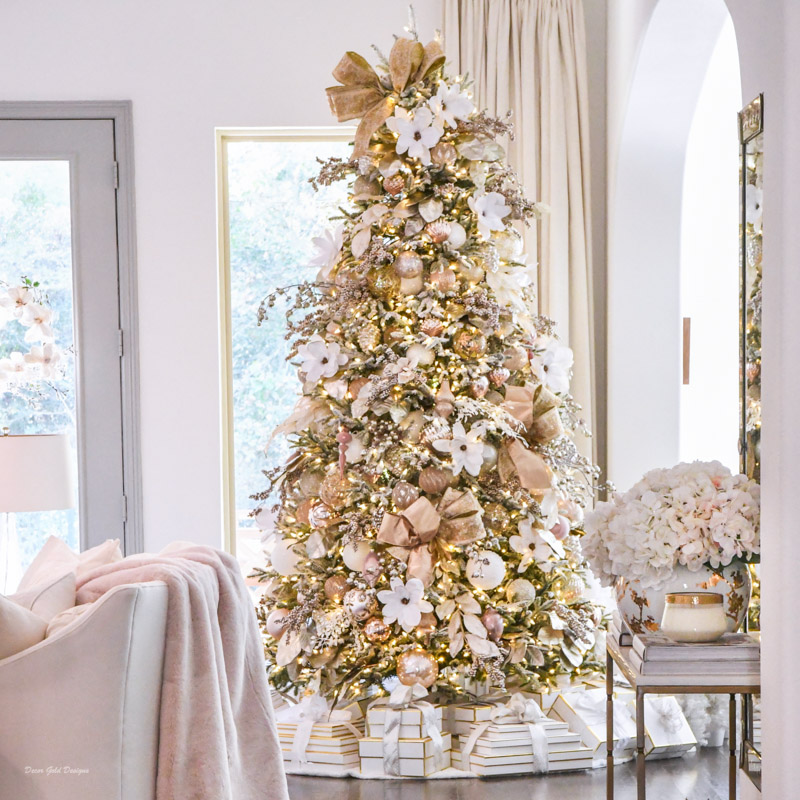 Is there anything more beautiful than the glow of Christmas lights? I adore how the whole area glows along with the tree from the lights.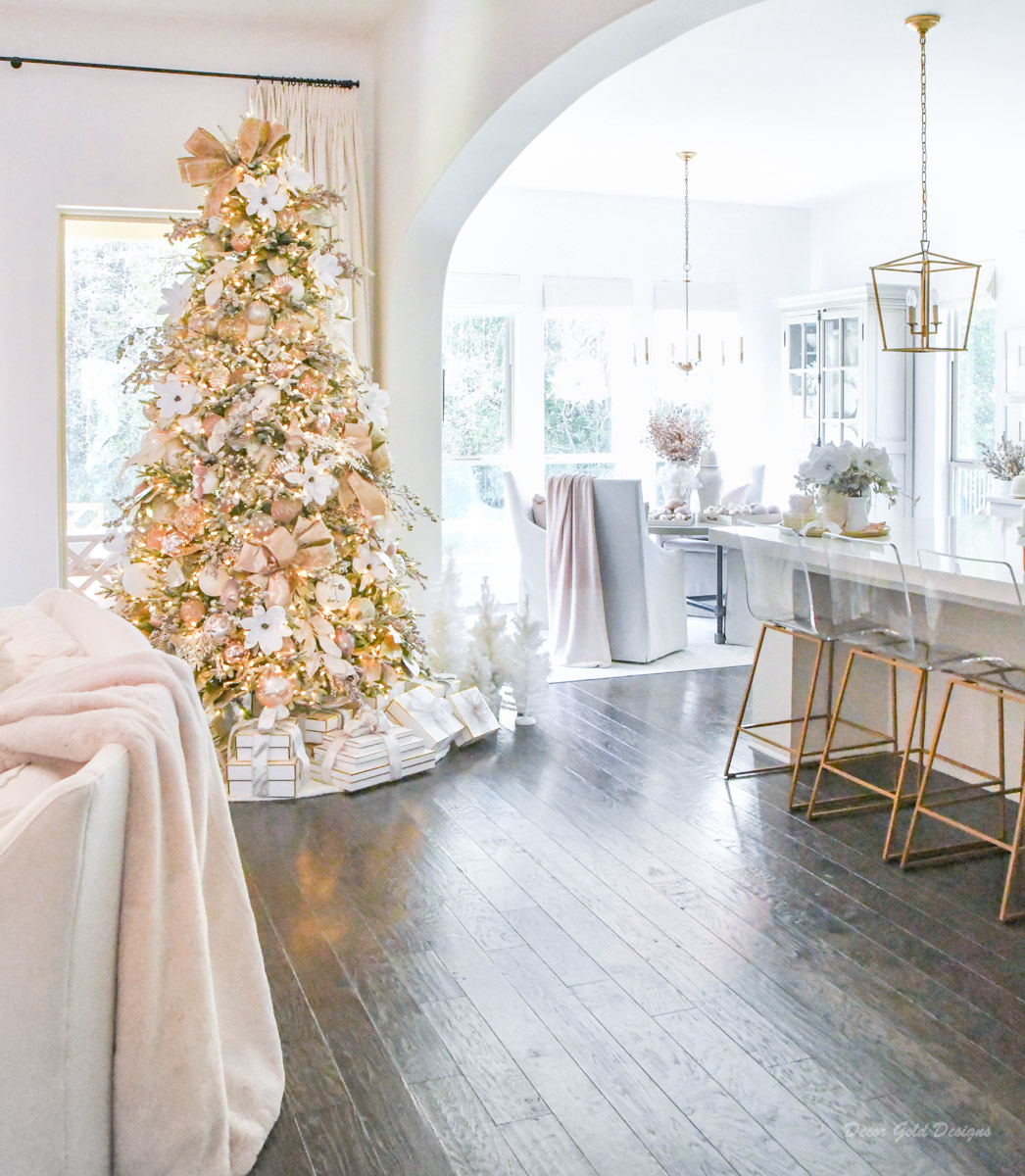 We placed our new tree in the entryway of our home this year, after a couple of years of having a tree in our living room. I love this location because this end of our entryway is open to three rooms, which makes it a perfect place for us to enjoy the tree.
The color scheme I selected is blush, rose, and gold. I love how beautifully these colors coordinate with our home.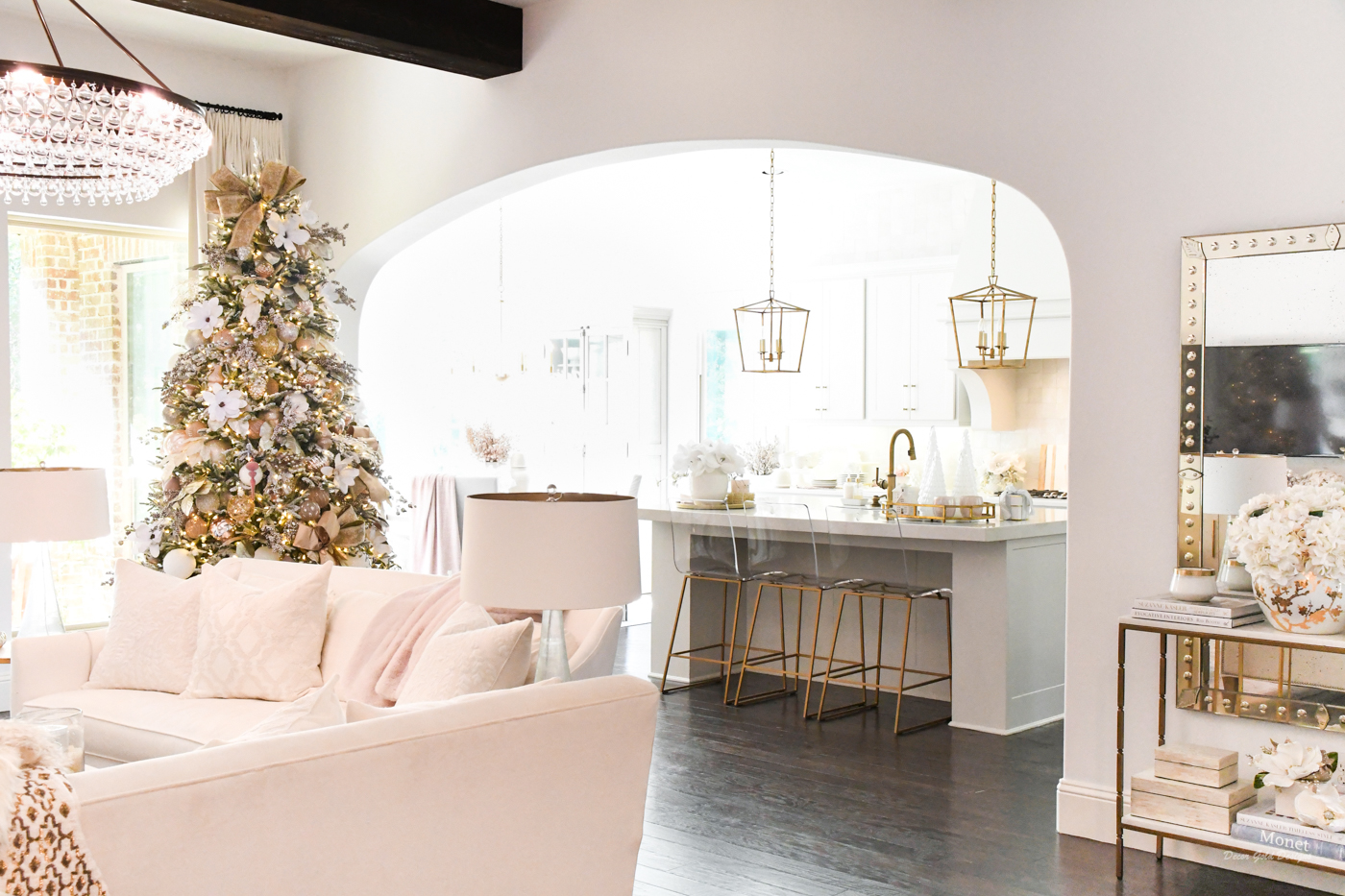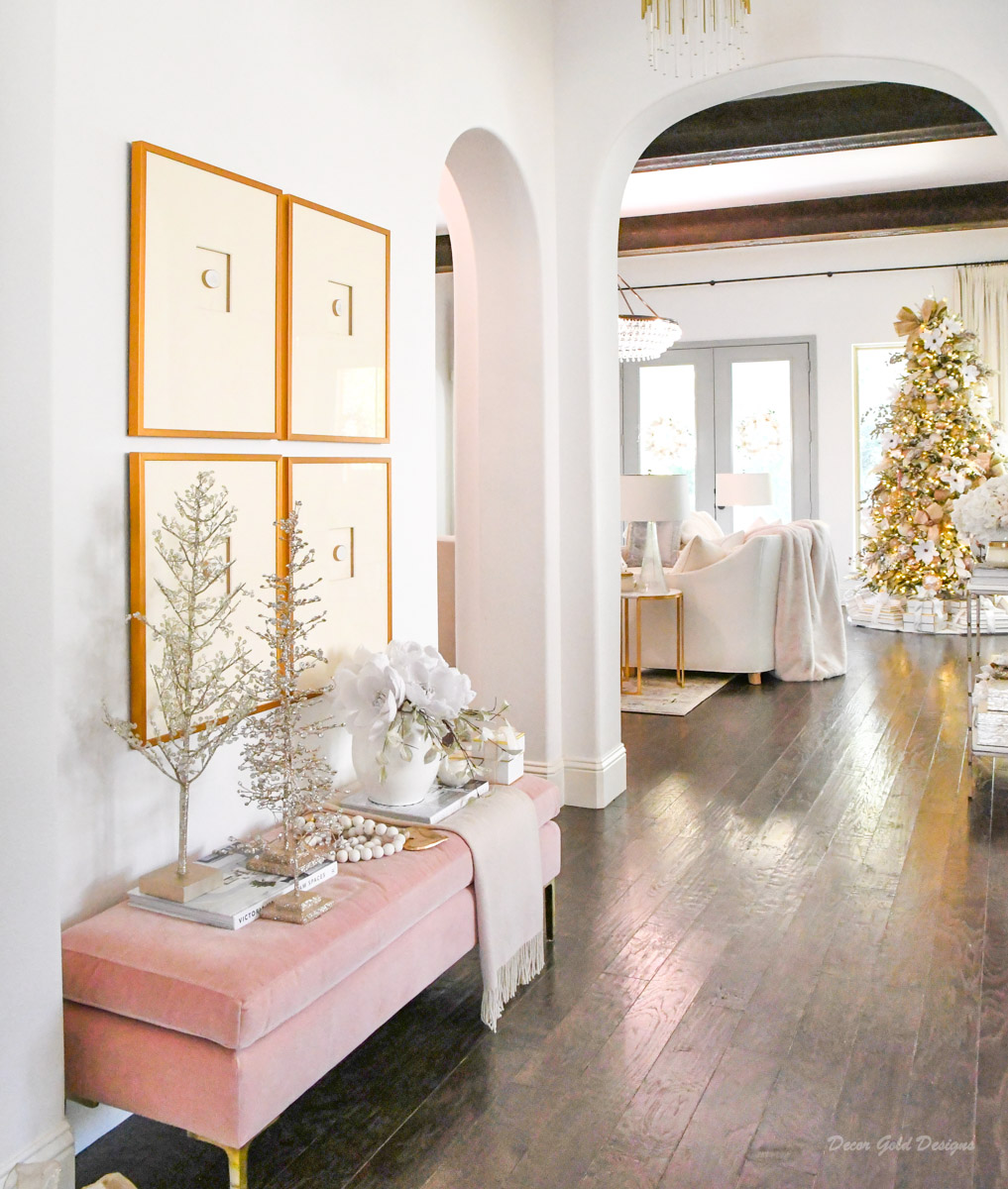 Without Lights
We rarely turn our Christmas tree lights off, but I wanted to share the lights-off look with you too.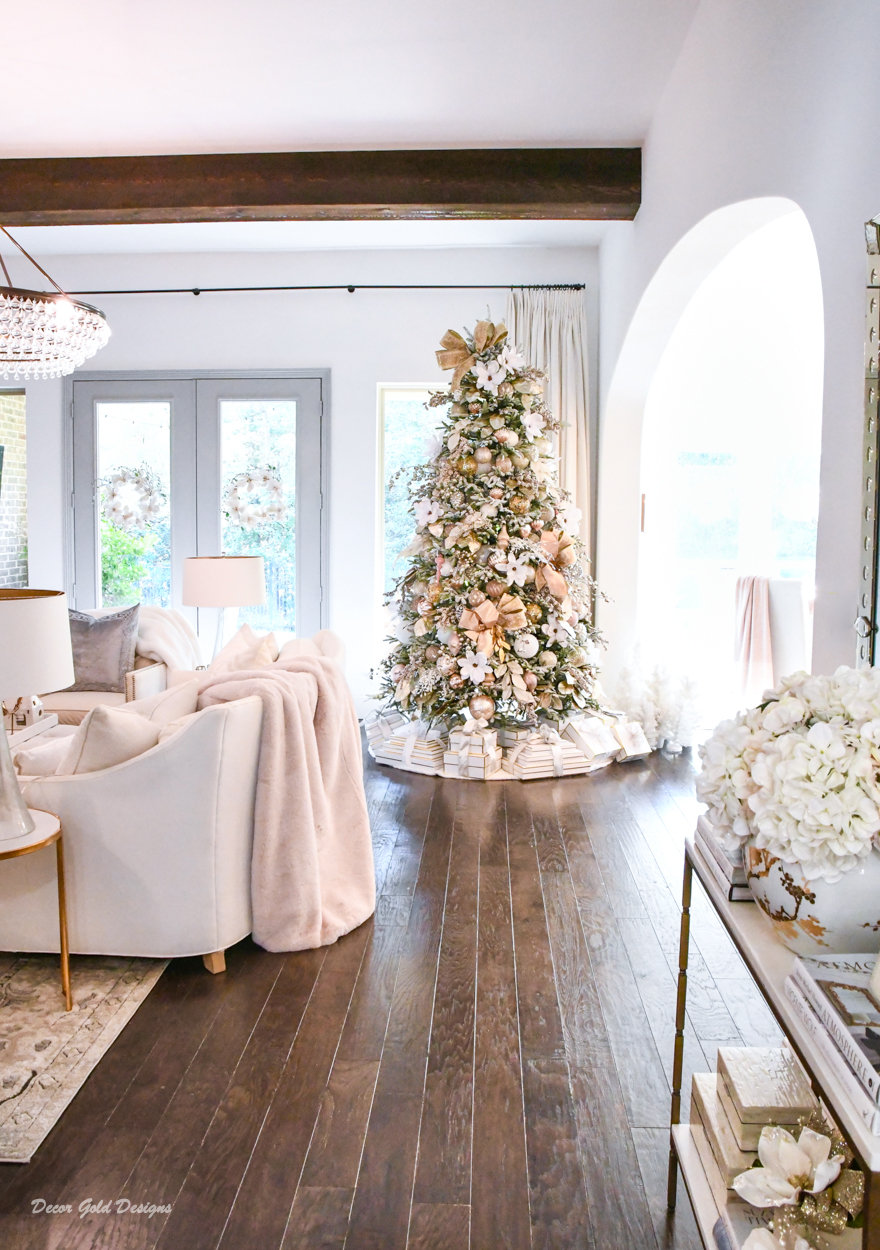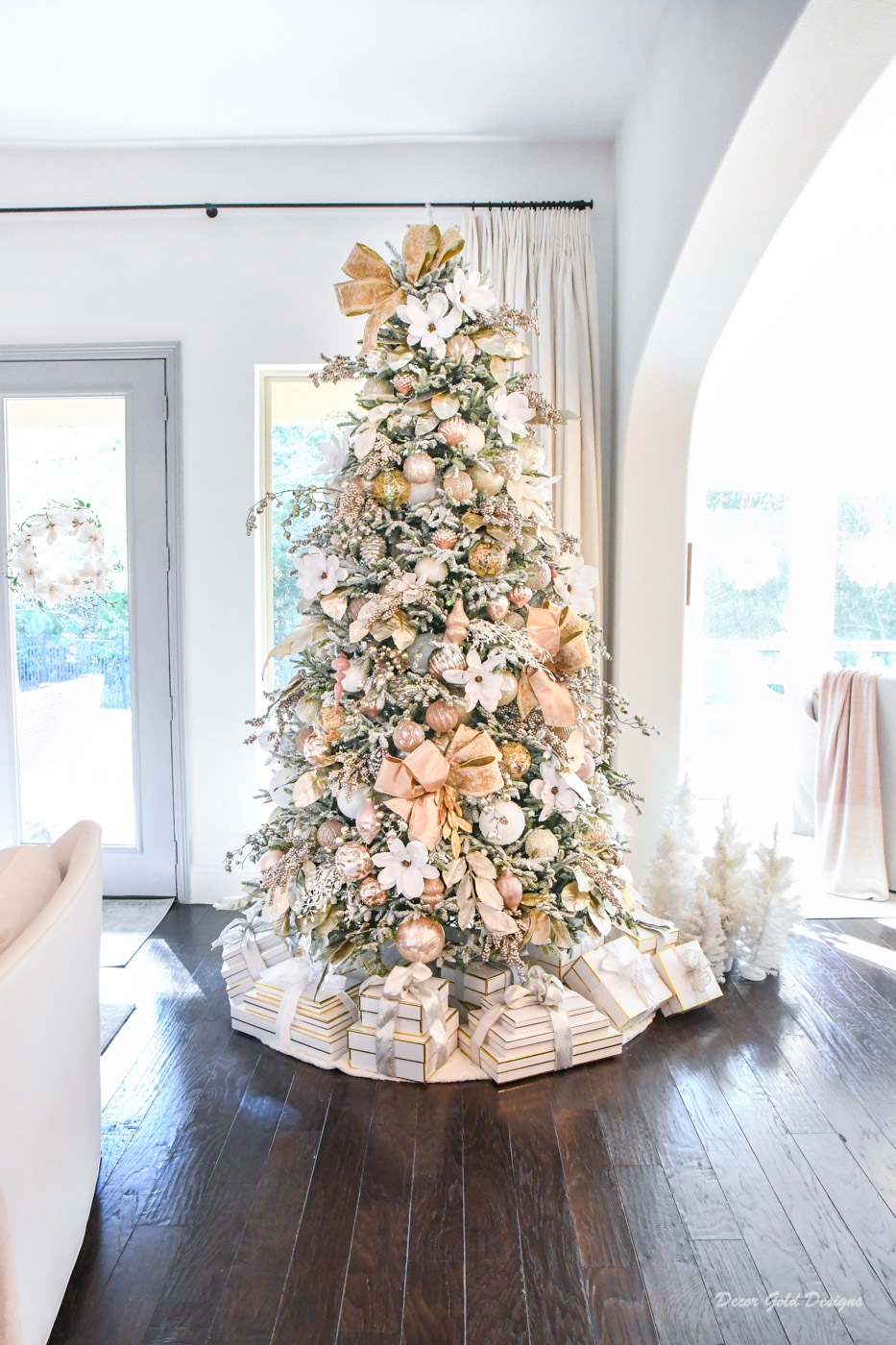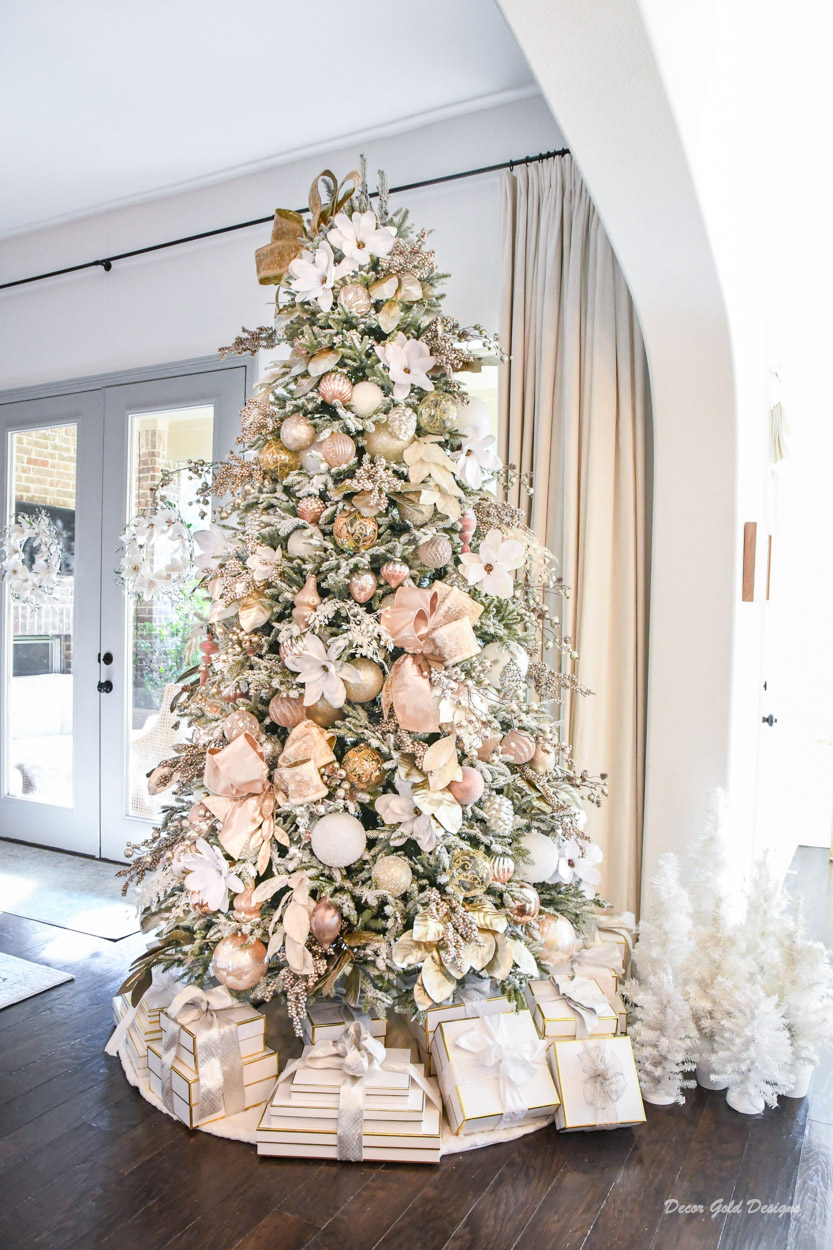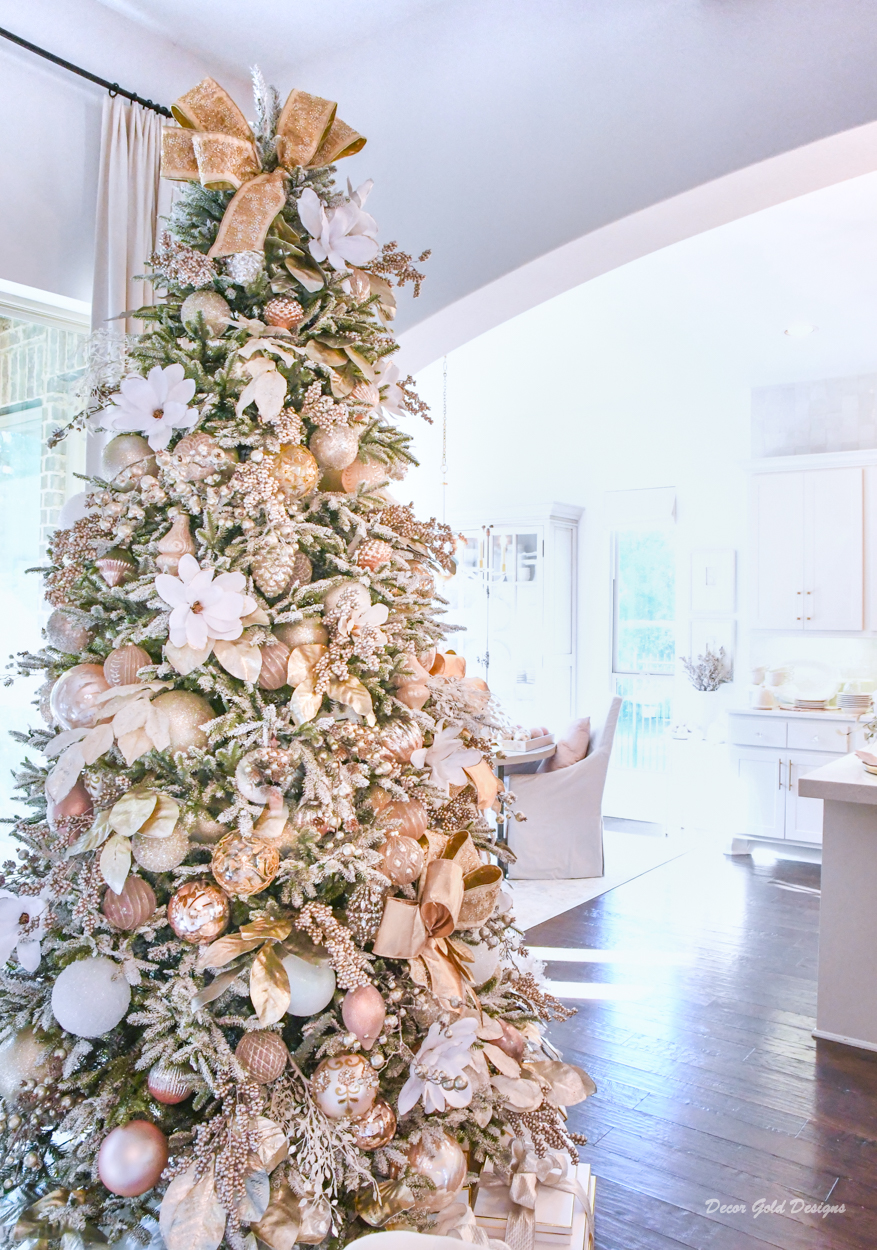 Tabletop Christmas Trees
I also ordered two of the Balsam Hill Frosted Fraser Tabletop Trees. I have a new-found love for tabletop trees and these are fabulous! I styled them on our entry console, but they would look beautiful grouped by our 9′ tree as well. (These are 42″)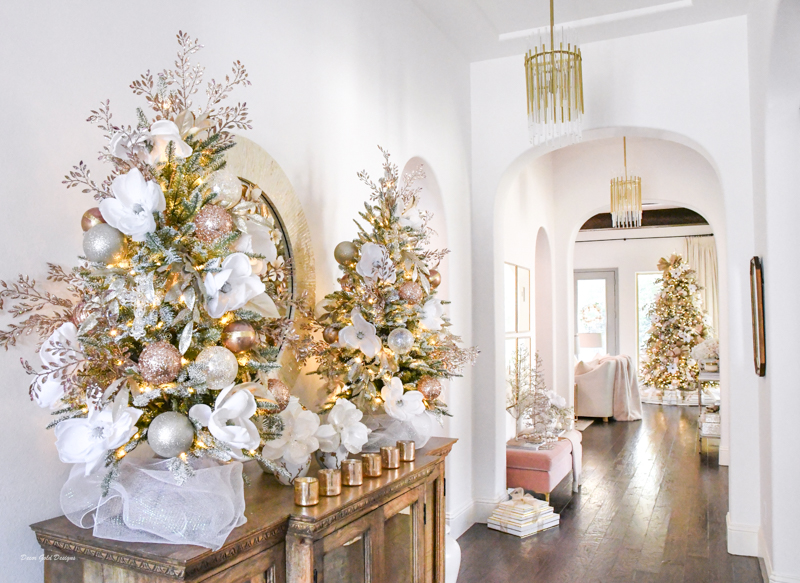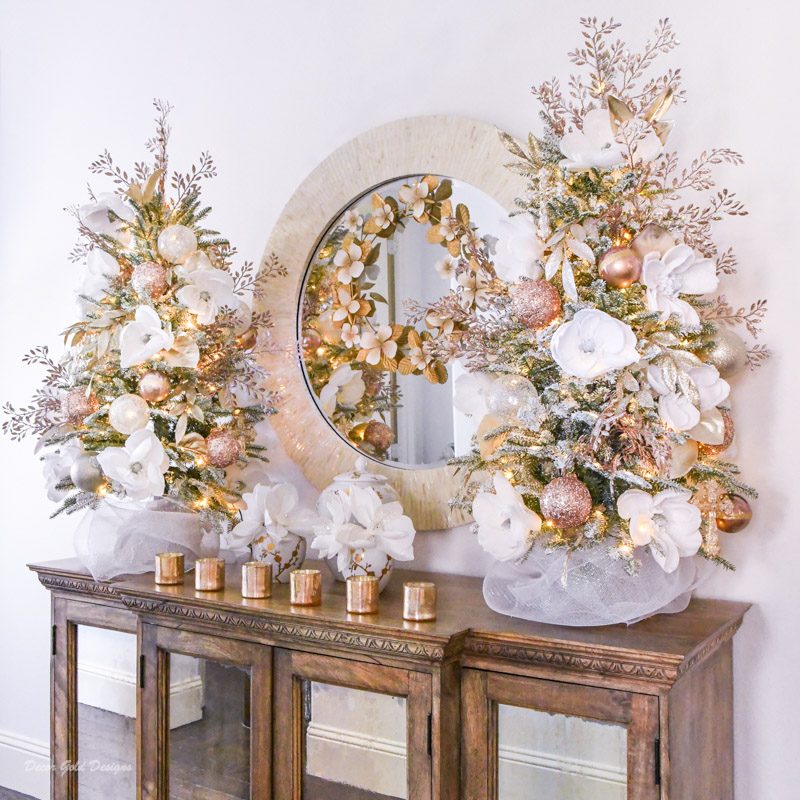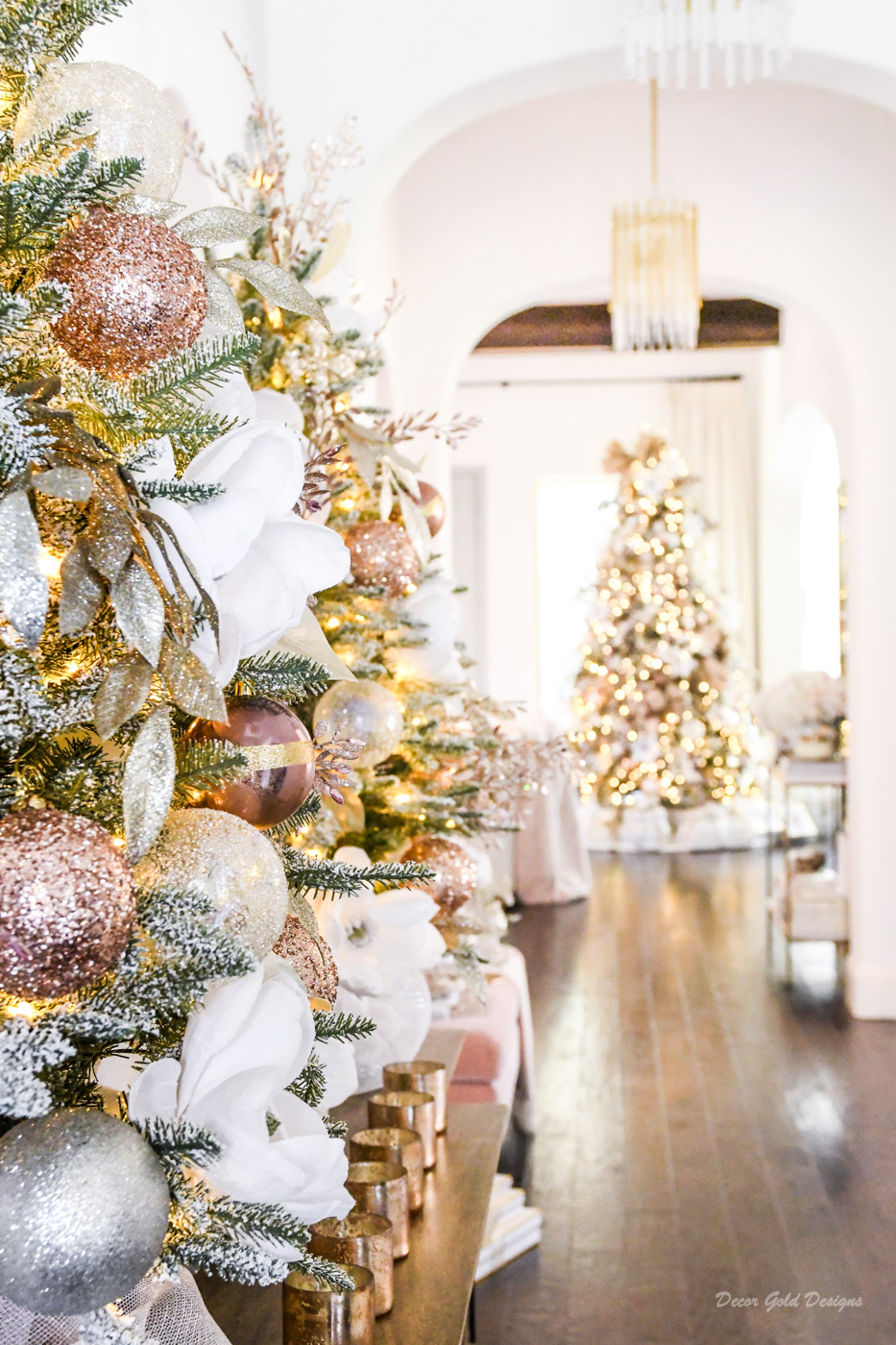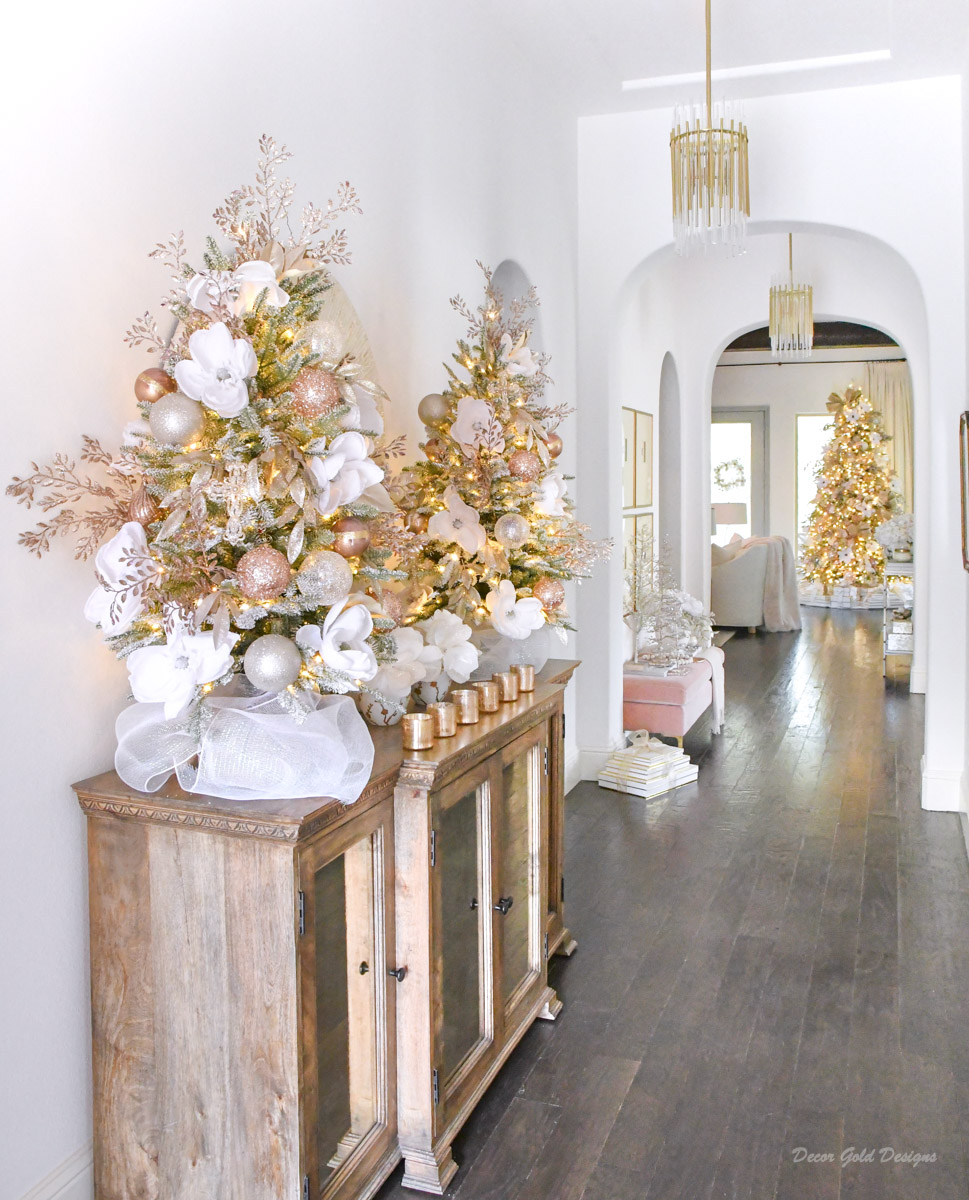 Ornaments
The ornaments I selected are exquisite! They are so elegant and eye-catching. Christmas tree sparkle with glass ornaments that reflect the grandeur and elegance of Biltmore. This collection features Christmas balls, jumbo ornaments, and finials intricately hand-painted with golden details.
The details are so gorgeous!

Ombre French Country Ornament Set | Winter Wishes Rose Pink Ornament Set
Biltmore Legacy Jumbo Ball Ornament Set | Biltmore Legacy Glass Finial Ornament Set

Be sure to check back often or subscribe to Decor Gold Designs as much more from my holiday home will be coming soon!
Looking for more Christmas styling inspiration? Two of my dear friends are sharing their gorgeous Christmas trees today and I have linked them below!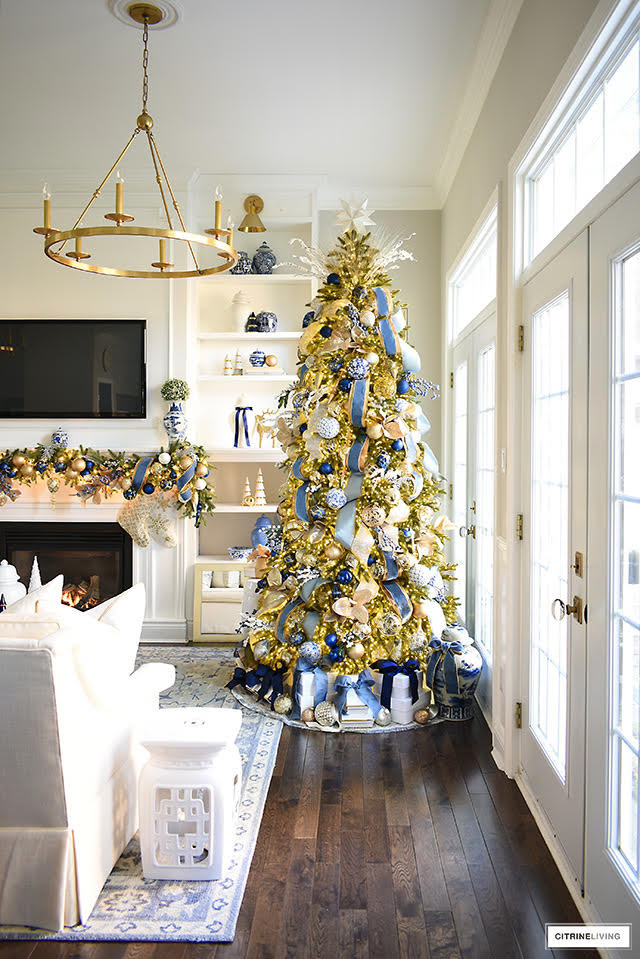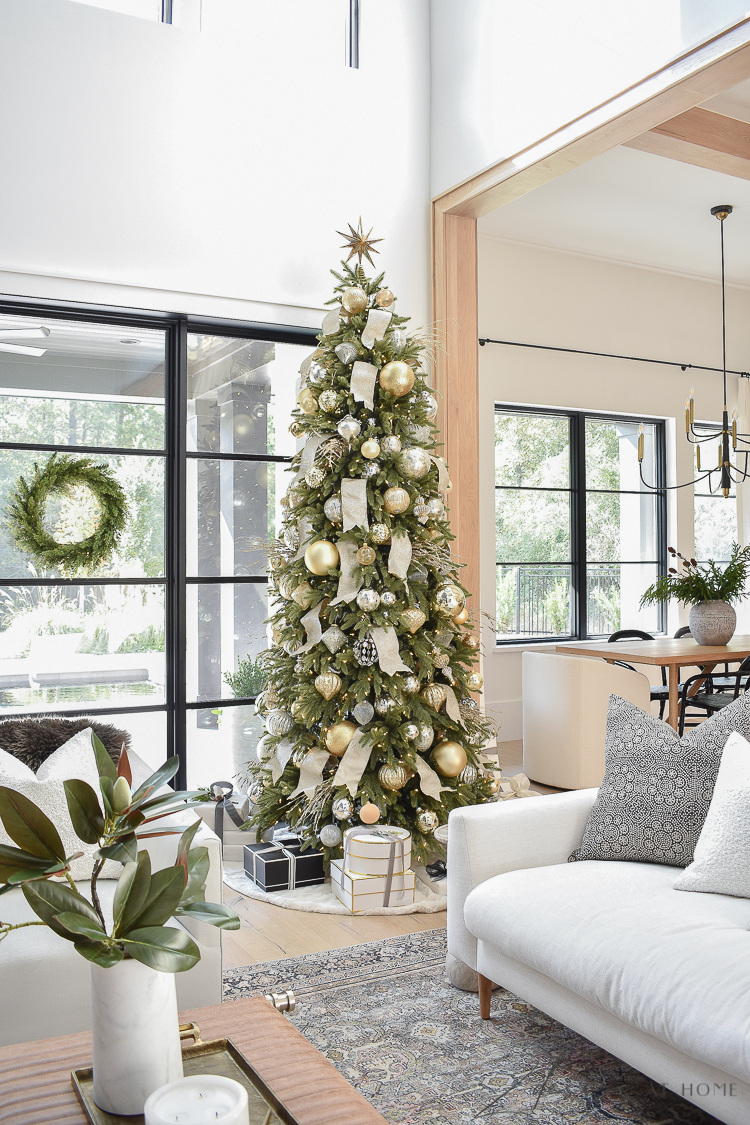 Connect with us here & never miss a post!
Click on the Image to Subscribe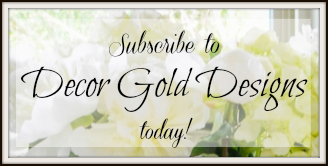 SOCIAL
Instagram | Pinterest | Facebook
Follow me on the LIKEtoKNOW.it app!