I love getting flowers…from the grocery store.
There is nothing like real flowers in the home. I love their look, scent and the way they influence a room's personality. They offer a vibrancy while simultaneously creating a calming effect that few other additions can provide. And they don't have to break the bank, as I will demonstrate for you shortly.
Some of the very best floral deals I find each and every week reside at our local Trader Joe's. I buy them fresh weekly and if they were too expensive, my husband would give me that raised eyebrows look. Thankfully, I find bouquets for $6 or less more often than not. No raised brows in our house!
While they are a welcomed addition to any room, my favorite place to display flowers in our home is the kitchen. Why you ask? Because I spend more time in our kitchen than any other room in the home. Additionally, our kitchen is in view from most of the main rooms throughout our home.
The flowers in the sink shot is a gorgeous one, but it is practical in this case too. When I bring flowers home, I immediately unwrap them, clip the stems, and put them in ice cold water in the sink until I have time to style them. I learned to use ice cold water from a florist.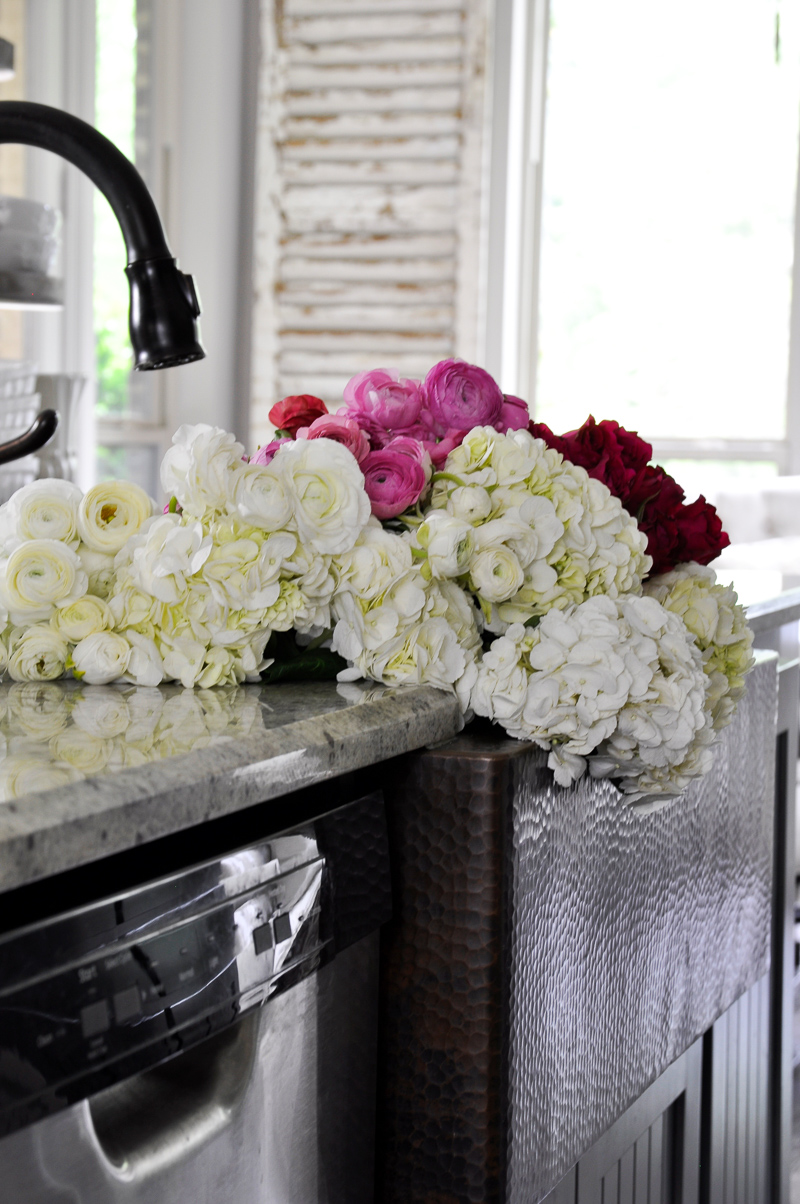 But let's back up for a moment, here is my kitchen without flowers.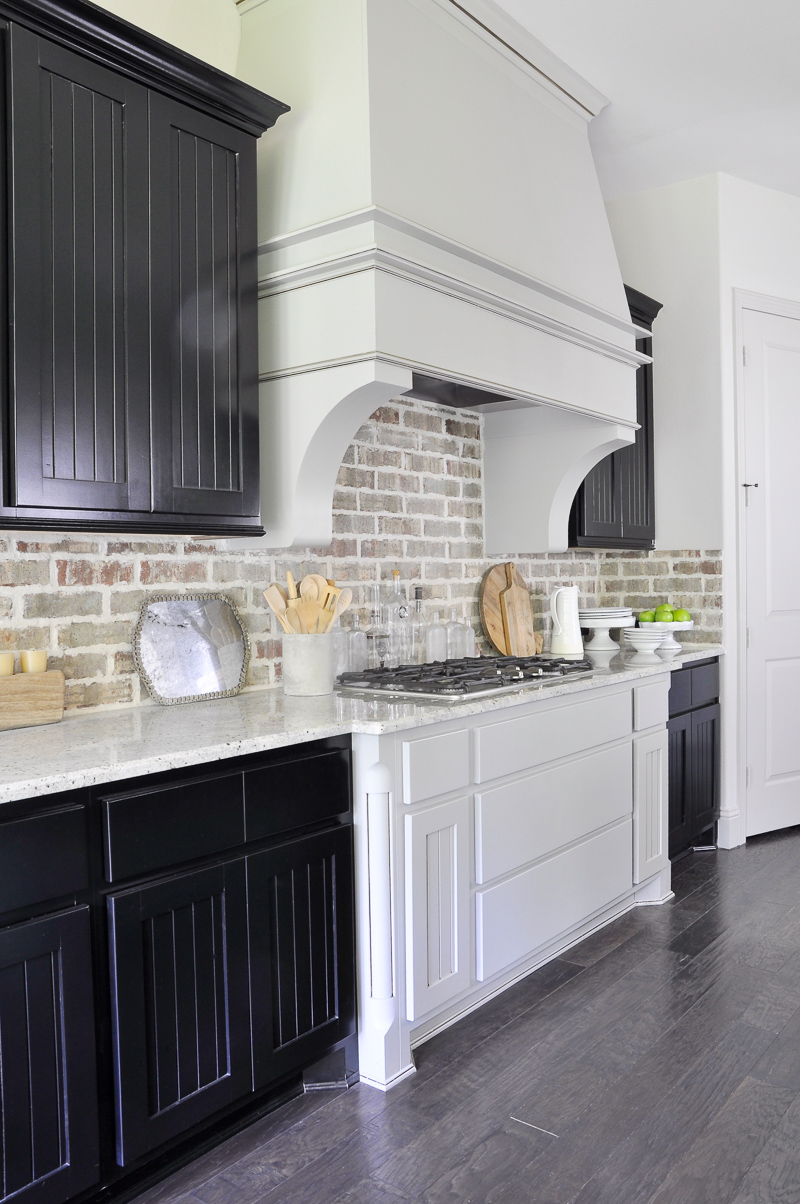 Just a simple glass vase full of tulips adds so much. Glass is my go-to vase. You can read more about that here.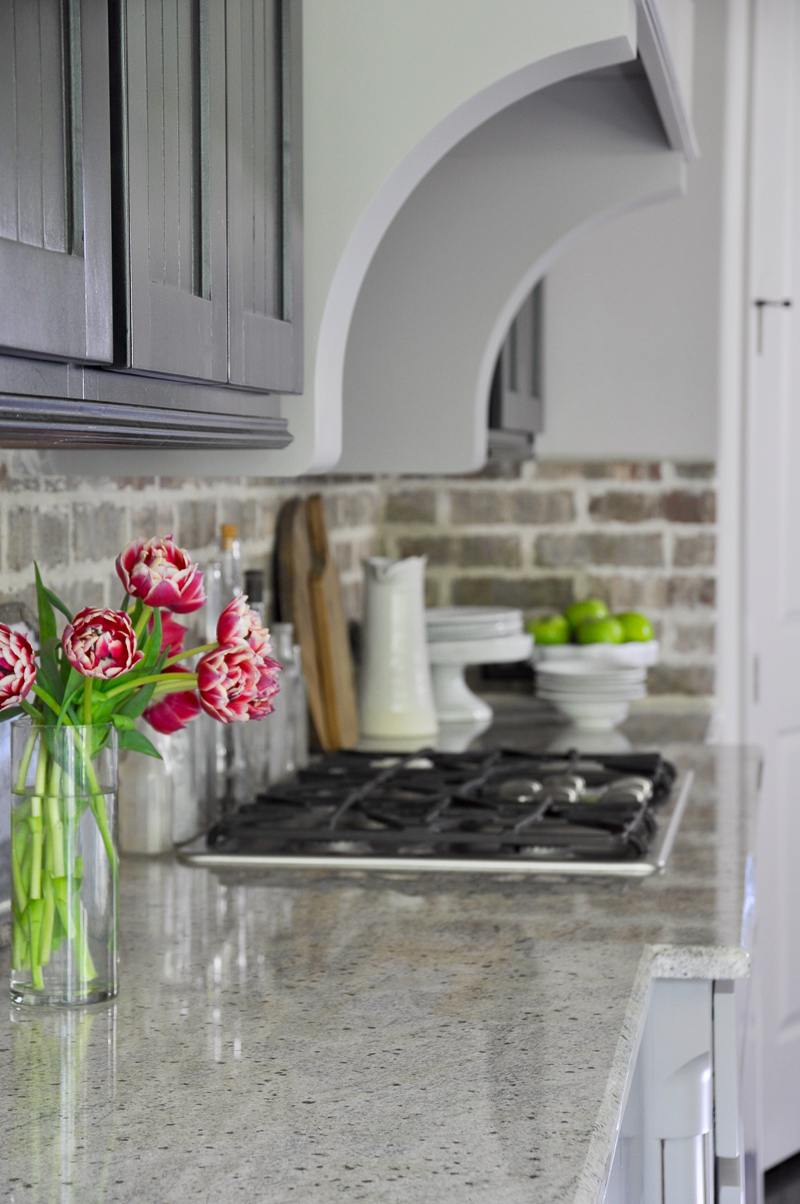 A pitcher full of the same tulips next to my favorite cake stand full of apples is another great look.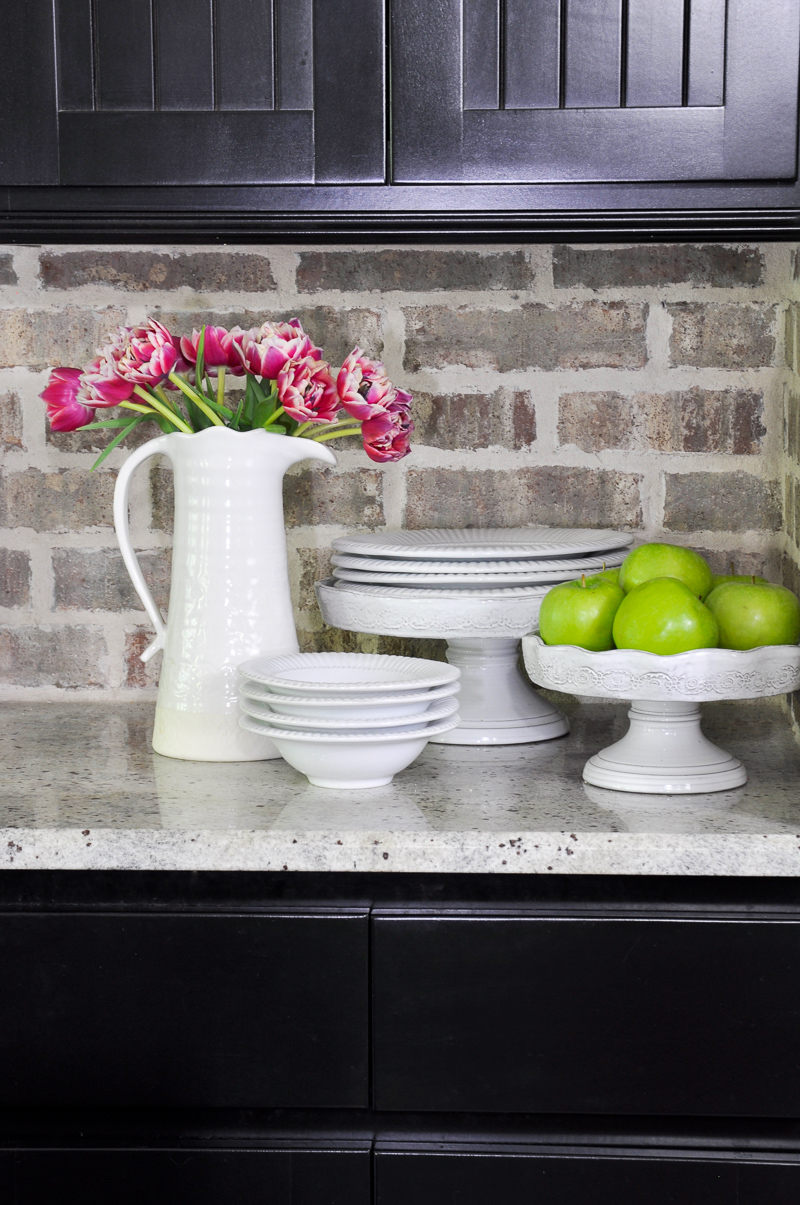 I also love to group a couple of bunches together in glass vases.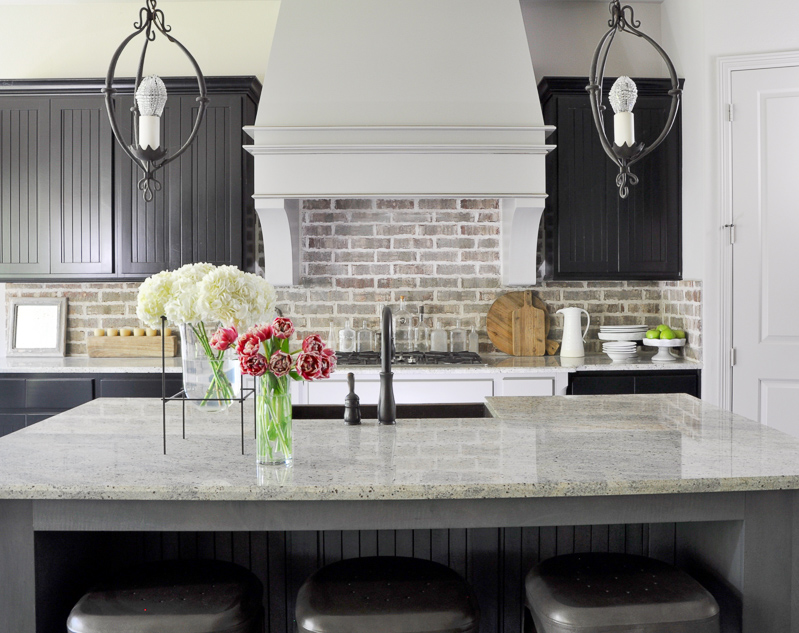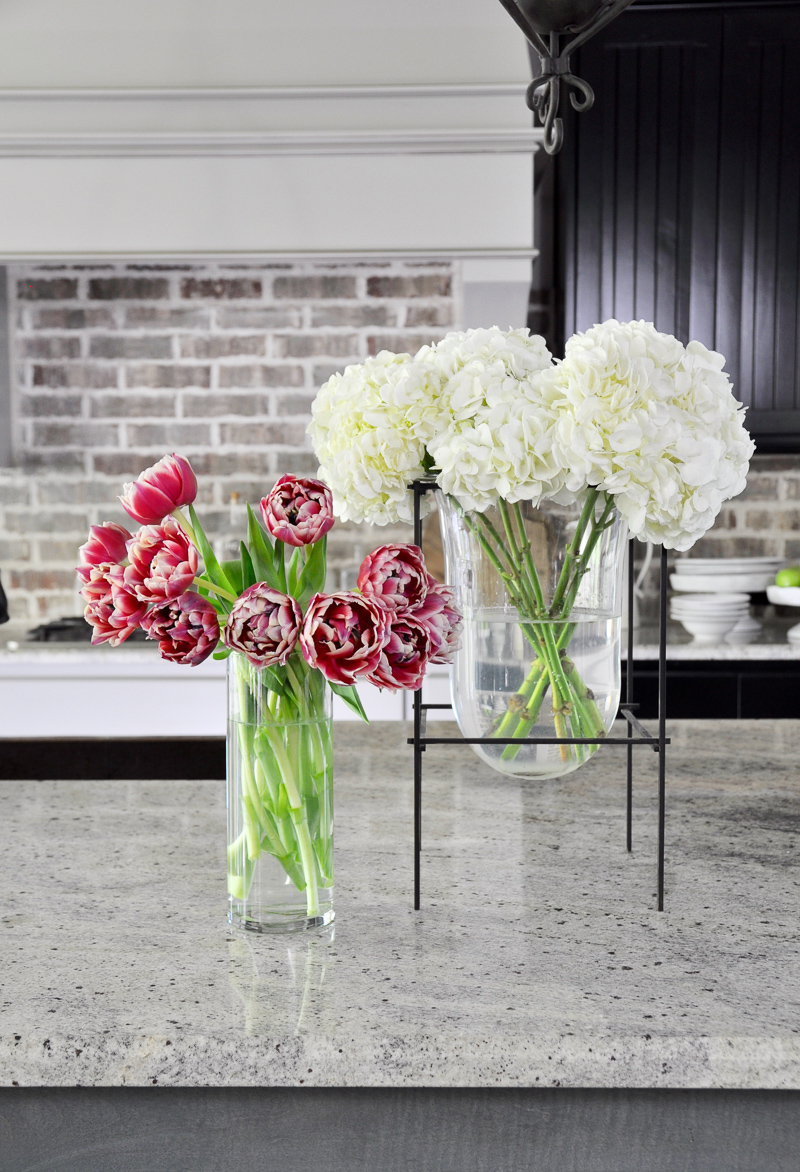 If I have enough flowers, three bunches make quite a statement.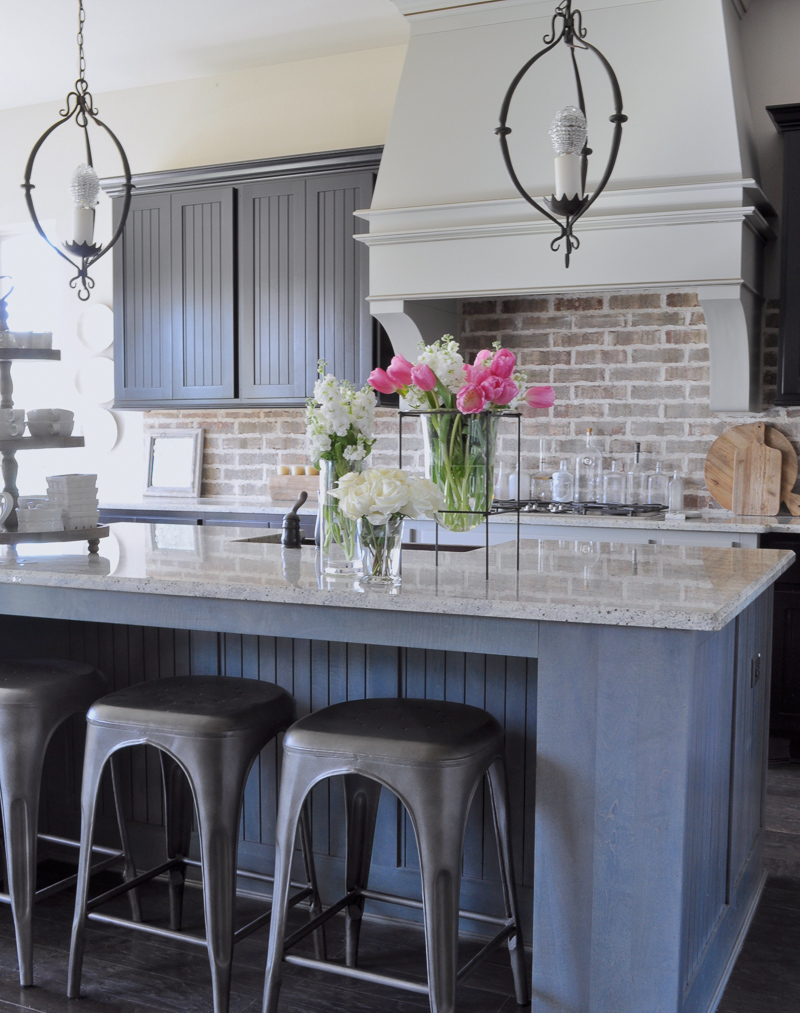 I asked to hear your favorite place to display flowers on Instagram and I loved the different answers. If you choose to add fresh flowers to your weekly grocery list, most importantly, place the flowers where you will see them as often as possible.
You know that feeling you get when someone brings you flowers for no specific reason? I love that feeling. Moreover, the exhilaration of the surprise slowly fades into a relaxed, stress free feeling which tends to linger for as long as the flowers are there, which is typically a week, but sometimes longer. Then, I go back to Trader Joe's where I buy a bouquet or two for myself…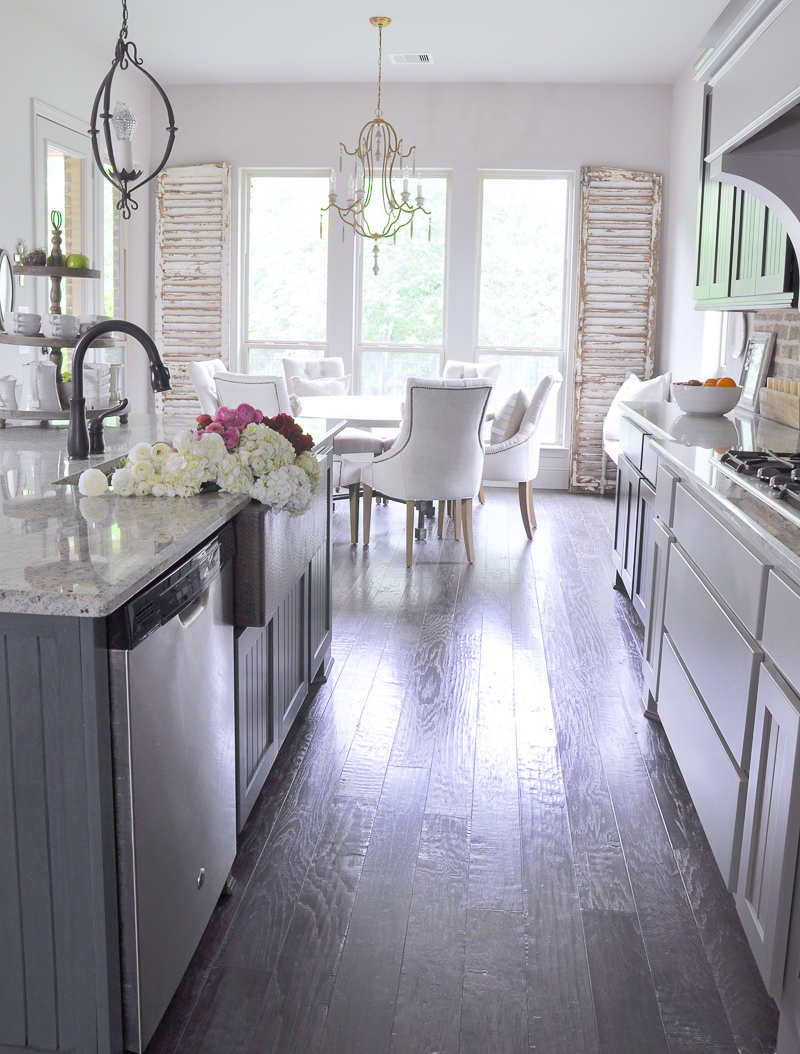 Sources:
Copper Sink
Similar Bar Stools
Breakfast Room Chandelier
Similar Breakfast Room Chairs
Similar Breakfast Room Bench